[Last updated: 20 December 2017]
---
Patriarch of the Stembel Family
---
Johan Friederich Stembel (Father)
Frederick Stembel
---
FREDERICK STEMBEL (1748 - 1840)




As German immigrants poured into Philadelphia, others were moving out in search of affordable land. Consequently, farmland surrounding Philadelphia became increasingly scarce. German settlers had to move farther and farther from the city to find suitable land. Most of the good land to the east and the south of Philadelphia was already occupied. Land to the north was available, but was not as fertile as the land to the west--which seemed to stretch forever. The settler's spread westward was impeded somewhat by the Appalachian Mountains. These mountains are actually a series of long parallel ridges that arc gently from northeast to southwest through central Pennsylvania. The ridges enclose long fertile valleys. Settlers found it was much easier to move south through the valleys than to cross the seemingly endless ridges to the west. As a consequence, much of the German migration moved down these valleys into western Maryland and Virginia.

Sometime between 1751 and 1754 Ann Catherine (Stembel) and Johan Adam Eberle joined this migration, moving from their home in Pennsylvania to Frederick County, Maryland. They were accompanied by the Stembel children: Anna Maria, Christoph (if living), and Frederick.

It appears that Adam's move to Frederick County was not a singular decision, for two other Eberle families, the Michael Eberles and the Leonard Eberles, also began showing up in Frederick County church registers at about the same time as Adam. I believe Michael and Leonard were brothers of Adam, but have not been able to document it. All three--Adam, Leonard, and Michael--appeared on Captain Peter Bainbridge's 1757-58(1) Muster Rolls of the French and Indian War.(2)

It is hard to further pinpoint when Adam and Ann Catherine moved to Frederick County. For a move of this distance (about 125 miles) one looks for the last record in the old location and the first record in the new location, and assumes the move took place sometime during that period. Such is not the case in this move. The last entry for an Eberle/Stembel in a New Hanover church register is on April 21, 1754--Anna Maria Stembel's confirmation. But the first entry in a Frederick County church register occurred 1 1/2 years earlier. On October 8, 1752,(3) Adam and Ann Catherine had their first child baptized in the Evangelical Reformed Church of Fredericktown, Maryland.(4) Until we locate land records that show when their Pennsylvania land was sold (if, in fact, any was owned), or land in Frederick County was purchased, we can only speculate when the move occurred. I suspect the move took place in early 1752. I believe Anna Maria's 1754 confirmation in New Hanover was a case where a young girl, uprooted from her childhood friends, wanted to be confirmed in her old church.

There is a large gap, however, between the first Eberle/Stembel record in Frederick County, and the second. The second occurred five-and-a-half years after the first, on April 17, 1758(5) On that date, Anna Maria sponsored a baptism (at the age of 16) in the same Frederick church where the Eberle's first child was baptized.

To date, we do not know for sure where the Eberles settled when they moved to Frederick County. Some family members believe they settled in or near Fredericktown.(6) This may have been due to the fact that their names appear in Frederick church records. A family member who has done some research on the Eberles believes they settled near the area where the town of Middletown is now located. I assume the three Eberle families settled near each other, so an examination of Frederick County land records and tax rolls for Eberle entries might give us a pretty good idea where they settled.

Frederick Stembel was about four years old when his mother and stepfather moved to Frederick County. Initially, the children in the household consisted of Frederick, his older sister Anna Maria, his older brother Christoph (if indeed he was alive), and his stepbrother Peter (age unknown), believed to be Adam's son by his first wife. They were soon joined by children born to Ann Catherine and Adam. The first was Eva Maria who was born in 1752, followed by Catherine Elizabeth in 1754, then Anna Barbara in 1758, and finally Eva Catherina in 1759. There may have been more; my knowledge of the Eberle family is incomplete.

As Frederick Stembel was growing up, discontent with England was simmering in the colonies. The British felt the need to station many troops in the colonies to protect their borders from the French and Spanish who coveted the British territories (as the British coveted theirs). The people of Britain footed the entire bill for this defense. As a result, the British tax burden was the highest in Europe. Parliament felt the colonists should foot part of the bill for their defense, so they passed the Stamp Act in 1765 which required a revenue (tax) stamp on all newspapers, almanacs, and legal documents in the colonies. The colonists vehemently protested that since they had no representation in the Parliament, the imposition of these taxes was grossly unfair. A Stamp Act Congress was convened in New York with representatives from nine colonies. They resolved to import no goods that required a tax stamp. The boycott was effective, and Parliament eventually repealed the act, but the Stamp Act turned out to be just the first in a series of missteps (e.g., the Townshend Acts, the Tea Act) by the British that eventually led to the War of Independence (or Revolutionary War). I suspect these issues were discussed frequently as Frederick was growing up.

Frederick's first appearance in a Frederick County civil or church record occurred on November 20, 1772, when he purchased Lot #8 in the fledgling town of Middletown, Maryland,(7) 10 miles west of the city of Fredericktown (now Frederick). He was 21. He paid £ 5. Seven months after purchasing the lot, he married Esther Leutert (now spelled 'Leiter' by their descendants).(8) Esther was 22.

Esther's mother and father had moved to Frederick County from Pennsylvania at about the same time as the Eberle/Stembel family.(9) In 1771, Esther's father died. In his will, he left one-third of his estate to his wife, and split the remaining two-thirds equally between his eight children.(10) I assume Frederick and Esther used part of her inheritance to build a house on their lot. This house on Lot #8 was the Stembel's home for the next 17 years. A year after they were married, Esther's widowed mother (Salome Snyder) used the proceeds from her husband's estate to purchase the lot next to Frederick and Esther's, Lot #7.

In 1774, Esther gave birth to her first child, Ann Catherine.(11) Two more children followed in quick succession: Anna Maria in 1775(12) and Johann Henrich (Henry) in 1776.(13)

Henry's birth coincided to the birth of their new nation, and the beginning of the Revolutionary War.

1778 was a busy year for the Stembels. The War for Independence was reaching the middle colonies, and in response, Frederick joined the local militia. He served for two years as a 1st Lieutenant in the 5th group, 34th Battalion, of the Frederick County militia (reportedly a German-speaking horse unit). I don't know if Frederick saw any action in the war.

In April, Frederick and Esther's fourth child, Catherine Elisabeth,(14) was born (Catherine probably died as a child, for no further records of her have ever been found).

Later that year, Esther's mother remarried and sold her lot (#7) to Frederick and Esther. Two days later, Frederick purchased the lot on the other side of his lot (lot #9) so that he now owned lots #7, #8, and #9. Three months later, however, Frederick sold lots #7 and #8, leaving him with lot #9. In a strange twist, he repurchased these same two lots thirteen years later.

Frederick's land transactions often make little sense to us today. He has been described as a land speculator by Frederick County historians. More likely, he was just a shrewd businessman who was adept at recognizing opportunity when it knocked. It appears Frederick managed to keep enough savings on hand to buy properties that he considered underpriced.

In 1779, Esther gave birth to their fifth child, Frederick, Jr. He was followed by Elizabeth in 1782, John in 1787, Jacob in 1789,(15) and finally Mary Margaret (whose exact date of birth is not known, but is thought to be about 1793(16)).

On November 3, 1791, Frederick repurchased lot #7 and the east half of lot #8 for £ 245 5s. He then built a two-story brick house on lot #7.(17) This home, with several later additions, served as the family's principal residence for the rest of Frederick's life (see photo below(18)). The house stood for 190 years before being purchased in the late 1970s by the adjacent Zion Lutheran Church (where Frederick served as an Elder 180 years earlier) who had it torn down in 1980. The land was then transformed into a landscaped buffer between the church and adjacent housing. Just before the house was torn down the Middletown Valley Historical Society of Middletown undertook a complete survey of the house and it's construction, and donated the results to the Library of Congress. The results of this detailed survey can be found here.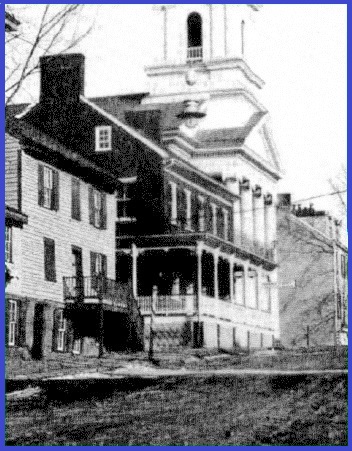 Frederick Stembel's house in the early 1900s. It's the dark house next to the church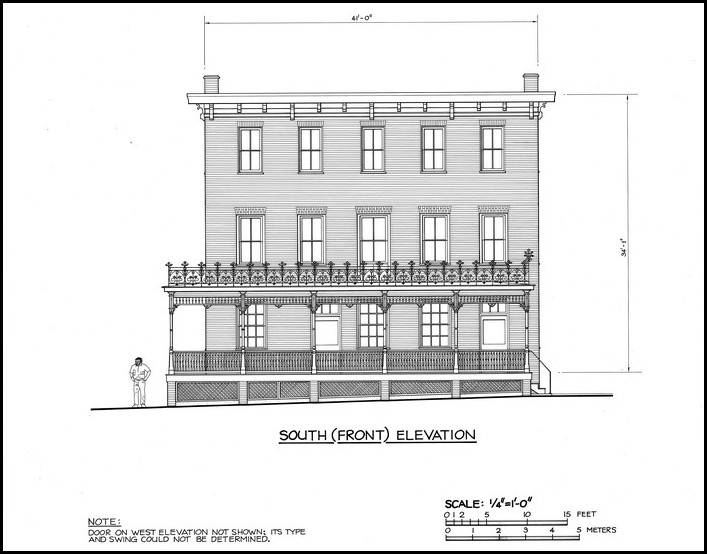 Drawing of the front of Frederick Stembel's house. For a complete set of drawings, including floor plans, see the survey here
What did Frederick do for a living? He seems to have been an energetic man of many interests and occupations. By now we are familiar with his penchant for buying and selling land. At various times in his life he owned lots #7, 8, 9, 10, 14, 31, and some unnumbered odd-shaped parcels in Middletown. Also, at the time of his death he owned many parcels of land in the area surrounding Middletown. In addition to his land speculation, Frederick at one time reportedly owned one of the first stores in Middletown.(19) In 1778, on the deed to property he had just purchased, it said he was a blacksmith.(20) On the deed for another piece of land, purchased in 1814, it mentions that Frederick and Esther operated a tavern on Lot #9.(21) In addition, at his death, Frederick's estate included a 164-acre "mansion farm" outside of town, so I assume he was also a part-time farmer.
It appears that Frederick was mainly a town dweller, more engaged in commerce than agriculture. This was unusual, for in that era the vast majority of Americans lived and worked on farms.
Whatever he did for a living, it appears he did it well, for at the time of his death he was a very wealthy man. When he drew up his will in 1738, the loans he had already made to his six adult children totaled nearly $24,000. I assume his estate was worth more than that when it was sold at public auction after his death.(22) That auction was held on February 23, 1841. His large house on lot #7 sold for $2,305, and his large "mansion farm" outside of town sold for $13,000. These amounts may not seem like much money now, but it was a virtual fortune at the time.
A descendant of Frederick's, Dr. William McLean, spent time researching the Stembel family in the late 1940s and early 50s. He kindly shared much of his findings with me in a series of letters written between 1984 and 1986. Dr. McLean interviewed many older relatives during the course of his research, and was able to put together a composite image of Frederick based on stories passed down through the generations. According to McLean, Frederick was an elegant and stylish person. He was known for his clothes--especially the large sterling silver shoe buckles he always wore. Also of note were his canes, and his short trousers worn with long silk or wool stockings. Records show he was deeply involved in the community and his church.
Frederick and Esther had nine known children. Two of the nine, Anna Maria and Catherina Elisabetha, died young. Another, Jacob, reportedly reached adulthood and married, but died soon thereafter. Of the six others who reached adulthood, three were girls and three were boys. All six married and had their children in Frederick County. Of the daughters, Elizabeth remained in Frederick County all her life. Ann Catherine lived in Frederick County most of her life, but moved to Ohio in 1853 with her son, as a 79-year-old widow. The third daughter, Mary Margaret, moved to Indiana in the early 1840s with her family.
Frederick and Esther's three sons married and raised their children Frederick County, but once each son reached their middle 40's each got the itch to move, and they all moved (individually) to Ohio: Henry in 1823, Frederick, Jr. in the late 1820s, and John in 1831.
For most young families in the early 19th century, moving west from Frederick County would have been considered a wise move. Farmland in Frederick County was becoming scarce and the land that was for sale was expensive. Farmland in Ohio and Indiana, on the other hand, was plentiful and cheap. There was a tradeoff, however. Western land first had to be cleared and a dwelling built. Also, wild animals and Indians could be hazardous, but for most families it was their best opportunity to get ahead.
This was not the case for Frederick Stembel's sons, however. Their father was well off, and a reading of his will reveals a willingness to provide generous loans to help them get started in any endeavor. Why, then, did his sons move away? None of the three were nearly as successful in Ohio as their father had been in Maryland. Why did they give up the security of a wealthy and influential father and move west?
According to family tradition, Henry, Frederick, Jr., and John all moved to Ohio because they had an aversion to slavery.(23) Maybe, but it should be noted that the 1810 census shows both John and Henry were slave owners (Henry owned three, John one). Frederick, Jr. later owned at least one slave as well.
Early slave ownership does not preclude a later enmity to slavery, however. The slavery that the Stembel's encountered in Frederick County was much different from the slavery in the deep South, nor were there large slave markets in western Maryland like those found in the large cities of Baltimore and Annapolis. Most slave owners in Frederick County owned fewer than five slaves(24), and they were most often used for domestic work, looking after the children, making clothes and shoes, and carpentry. Farms in Frederick County were generally modest in size. It wasn't until religious leaders began to seriously question the morality of owning human beings, and the abolitionist movement began publicizing the excesses of slave owners, that people began to strongly oppose slavery. It's possible Frederick's sons were affected by this growing movement.
Frederick owned five slaves in 1810, six slaves in 1820 and seven in 1830. By 1840, a few months before his death, Frederick owned just three slaves(25). In his will - drawn up two years earlier - Frederick directed that they were to be manumitted upon his death.
I suspect the issue of slavery played a part in their move to Ohio, but I also suspect all three sons had a desire to be successful on their own, without the inevitable comparisons to their father.
Frederick's wife, Esther, died in 1835, at the age of 84. She was buried in the Zion Lutheran Church cemetery. Frederick was 86 years old at the time of her death. His daughter Elizabeth (Levy) lived nearby and no doubt helped look after him, but she died just two years later. At some point his granddaughter, Kittie (Ann Catherine Michael Hewitt), came to stay with him. Kittie's husband had died in 1838. After his death in Ohio, she had moved back to Middletown and stayed with her Grandfather until she remarried in 1840.
Frederick died November 16, 1840, around the time of Kittie's wedding. He was nearly 92 years old. The family claims he was buried next to his wife in the Zion Lutheran Church Cemetery (but maybe not)(26). The church later moved both graves when the church expanded, but today no one knows where they were re-interred.
---
Frederick and Esther's nine children:
A. Ann Catherine (1774-1858). (Ann Catherine is the subject of a later chapter)
B. Anna Maria (1775-?). Anna Maria was born May 3, 1775, in Middletown. She was baptized on June 11.(27) Her birth was recorded in the Monocacy Lutheran Church baptismal records. No other record of her has been found. She probably died in childhood.
C. Johann Henrich (Henry) (1776-1829). (Henry is the subject of a later chapter)
D. Catherine Elizabeth (1778-?). Catherine was born April 9, 1778, in Middletown. She was baptized on July 6 of the same year.(28) Her baptism was sponsored by Johannes and Catherine Eberly, Frederick's mother and stepfather. This is all we know of her. It's likely she died as a child.
E. Frederick, Jr. (1779-1868). (Frederick, Jr., is the subject of a later chapter)
F. Elizabeth (1782-1837). (Elizabeth is the subject of a later chapter)
G. John (1787-1861). (John is the subject of a later chapter)
H. Jacob (1789-?). Jacob was born in 1789, in Middletown. His birth and baptism were recorded in the Middletown Lutheran Church register. This is all of the factual information I have on Jacob. Dr. McLean believes Jacob fought in the War of 1812, but I have yet to unearth any record of his service.(29) Recently I found a website that indicates that a "Jacob Stembel, born c. 1789, married Eva Easterday in 1816. Jacob passed away." This sounds promising, and I will follow up on it.
I. Mary Margaret (c.1791-?). (Mary is the subject of a later chapter)


---
FOOTNOTES
---
1. "The Maryland History Magazine," Volume 9, pages 250, 348, and 354.

2. During the French and Indian War, Indians raided much of Frederick County in 1754 and 1755 creating panic among the settlers in the area. In November 1755, the French and the Indians came within 15 miles of Fredericktown.

3. Maryland German Church records, Vol. 5: Evangelical Reformed Church, Frederick, Frederick County, 1746-1789. Translated by William J. Hinke, PhD., edited by Frederick S. Weiser, Historical Society of Carroll County, Westminster, Maryland, 1991. P. 4.

4. This does not mean the Eberles were living in Frederick, Maryland, at the time. Churches in central cities often served a large rural population. Events recorded in their registries did not necessarily happen in that church or community.

5. Evangelical Reformed Church, p. 4.

6. Fredericktown, Maryland, changed its name to Frederick, Maryland. This is the name I shall use for the remainder of the book.

7. Millard Milburn Rice, New Facts and Old Families (Baltimore: Genealogical Publishing Co., 1984), p.146. This is a very good source of information about the original layout and first residents of Middletown, Maryland.

8. John A. Leiter, History and Genealogy of the Leiter Families (Portland, OR: self-published, 1977)., p. 300.

[Leiter's book was self-published and sold privately, thus may be hard to find. It includes a very thorough history of Esther's family. It also contains 30 pages of Stembel genealogy based on Dr. William McLean's research (see earlier footnote) and with his permission. Esther's father emigrated to America from Switzerland in 1749, but his wife died at sea. He remarried in 1750 and Esther was their first child].

9. Ibid. pp. 175, 300.

10. By my calculations, Esther received about £37½ as her portion of the inheritance. This was a significant amount of money at the time. For sake of comparison, consider that Frederick purchased lot #8 in Middletown for just £5.

11. Maryland German Church records, Vol. 3: Monocacy Lutheran Congregation and Evangelical Lutheran Church. Baptisms 1742-1779. Frederick, Frederick County. Translated and edited by Frederick S. Weiser, Noodle Doosey Press, Manchester, Maryland, 1987. p. 75. Ann Catherine was born April 12, 1774, and baptized May 23, 1774. Her baptism was sponsored by Frederick's mother and step-father, Adam and Ann Catherine Eberle.

12. Ibid., p.80. Anna Maria was born May 3, 1775, and baptized June 11, 1775. Her baptism was sponsored by Georg Michael and Anna Maria Rohr.

13. Ibid., p. 84. Johann Henrich was born June 22, 1776 and baptized August 14, 1776. His baptism was sponsored by Henrich Leutert (or Leiter), Esther's brother.

14. Maryland German Church records, Vol. 1: Christ Reformed Church 1742-1779. Middletown, Frederick County. Translated and edited by Frederick S. Weiser, Noodle Doosey Press, Manchester, Maryland, 1986. P. 9. Catharina Elisabetha was born April 9, 1778, and baptized July 6, 1778. Her baptism was sponsored by Frederick's mother and step-father, Johannes (Adam) and Ann Catherine Eberle.

15. Leiter, pp. 322, 324, 330.

I have not been able to locate church records for the births of Frederick, Jr., Elizabeth, John, or Jacob. For these, I have relied on Dr. William McLean's research published in Leiter's book.
Frederick, Jr. was born July 17, 1779
Elizabeth was born March 2, 1782
John was born March 15, 1787
Jacob was born December 4, 1789

16. I have not been able to find Mary's birth in church records, so I have estimated Mary's date of birth based on her age recorded in the 1850 federal census, 57.
17. George C. Rhoderick, A History of Middletown, Maryland (York, PA: Middletown Valley Historical Society, 1989). p. 82.
Much of the detailed information about Middletown land transactions in this chapter comes from this highly informative book. It is a compilation of newspaper articles that ran in the Valley Register, Middletown's newspaper, in 1975-76. Frederick Stembel and his family are mentioned frequently and prominently. Be aware that much of the information about the Stembel family (except for the land records) is in error, but that shouldn't deter a family member from reading about the part Stembels played in the early history of Middletown.
18. This photo is from George C. Rhoderick, A History of Middletown, Maryland (York, PA: Middletown Valley Historical Society, 1989). p. 76.
19. Ibid., p. 11.
20. Ibid., p. 100.
21. Ibid., p. 101.
22. Maybe not. At the time of his death and the sale of his estate, the country was in the midst of a deep depression. His property probably sold for much less than it had been worth just three years before.
23. I have heard this from two different relatives.
24. According to the 1850 Federal census, there were 1,090 slave owners in Frederick County (out of 36,000 free residents). They owned an average of 3.6 slaves each. Only 14 individuals in the entire county owned more than 10 slaves.
25. Frederick, like most other prosperous residents of Frederick County, owned slaves. According to the Federal censuses, he owned the following number of slaves:
1790 - 3
1800 - 4
1810 - 5
1820 - 6
1830 - 7
1840 - 3

Frederick had his slave's children baptized in the Lutheran church. We have records of two of them. Thus, we know who they were, when they were born, and the name of their parents. Caroline was born July 22, 1822, and baptized June 30 of the following year. Caroline's parents are shown as Jerron and Charity (who were later owned by Frederick, Jr. They later had another child born. This time the church register gives their name as Jeremiah Siles and Charity). Abraham was born April 14, 1822, and baptized September 22 of the same year. His mother's name was Sarah Steward. No father was given. Abraham was still owned by Frederick at his death, for he was named in his will.
In his will, Frederick manumitted (freed) his three remaining slaves upon his death. They were Frank and Sally (no last names were given), and Abraham.
Learning that Frederick owned slaves (as did his sons, briefly) took some of the joy out of my quest to learn more about this fascinating man and his family. It is not my intention to judge family members in this book. I merely want to share the facts that I have unearthed. Slavery was legal in Maryland. Help was hard to find at a time when just about anyone could move west, buy cheap land, and start their own farm. Also, it might be argued, western Maryland was not the deep South, Frederick seems to have cared for his slaves, or at least their souls (one is left to wonder, however, about the role of the clergy in Frederick County, and the rest of the country).
Regardless, the fact remains: the early Stembels owned slaves.
As a student of history, I would like to learn more about Frederick's slaves. I would like to know what happened to the three slaves that he freed at his death. Unfortunately, opportunities for free Blacks in the 1840's were slim, and I might not like what I find.
26. According to a Xenia resident (Robert Shain, great-grandson of Elizabeth Levy Weaver) "For a long time there was a tombstone in a cemetery in Xenia, Ohio, for a Frederick Stemble, and this was very probably the final resting place of the prominent Middletown property-owner." The resident gives further information that rules out this being the tombstone for Frederick Jr. The resident says the tall, thin gravestone was destroyed in a tornado that swept through Xenia "some years ago" (not sure when this occurred). If true, then where did Frederick die? Did he move to Xenia after the death of his wife, so his son could care for him? His grand-daughter cared for him for a few years (after the death of her husband in 1838) but it appears she remarried before Frederick died so it's possible Frederick moved or was forced to move to Ohio so his son Frederick, Jr., or his single daughter, Ann Elizabeth, could care for him. I find it hard to believe anyone would move a 90-year-old man so far. George C. Rhoderick, A History of Middletown, Maryland (York, PA: Middletown Valley Historical Society, 1989). p. 139.
27. Anna Maria was born three days after the Second Continental Congress convened in Philadelphia. Her baptism took place six days before the battle of Bunker Hill outside Boston.
28. Catherine's existence became known for the first time in early 1986 when a genealogist, transcribing a new translation of the original records of the Middletown Reformed Church, noticed that Catherine wasn't included in the earlier translation. She called and brought it to my attention. No further record of her existence has ever been found.
29. A Jacob Stemple from Preston County, Virginia (now West Virginia), did fight in the War of 1812. This may be the cause of the confusion since the Stembel name has often been spelled with a -ple. Jacob Stemple was the grandson of Gottfried Stemple who came from Wittenberg, Germany, in 1773. I know of no relationship between this family and the Stembels.
This information comes from a history of Preston County, West Virginia, by Oren F. Morton, published in 1914.
Copyright. Oren Stembel, STEMBEL FAMILY HISTORY PROJECT (familyhistory.stembel.org).