---
[Last updated: 30 December 2015]
---
Johan Friederich Stembel (Grandfather)
Frederick Stembel (Father)
Henry Stembel
---
HENRY STEMBEL (1776 - 1829)
On June 22, 1776, Esther Stembel gave birth to Henry at his parent's home on Lot #8 in Middletown, Maryland(1)
Ten days after his birth, the second Continental Congress, comprised of representatives from the 13 British colonies, voted to break free from British rule. Two days later, on July 4th, the colonies issued their Declaration on Independence, creating the new nation that Henry was now a citizen of (he had been a British subject for less than two weeks!). The British responded quickly by launching an invasion and capturing New York City - and the Revolutionary War for Independence was begun!
Henry's country was at war with the British for the first seven years of his life. For two of those years his father was personally involved, serving as a Lieutenant in the local militia.
Henry was Frederick and Esther's first-born son. Frederick was an active, ambitious man, and he brought up his oldest son in the same mold.
Henry grew up in a town environment, where he had the advantage of having friends nearby, of interacting with other adults daily, and of observing the many different commercial activities that a town requires and supports. A majority of Middletown's residents at the time were of German descent, and the German language was widely spoken. Even then, however, it was obvious that English would be the language of government and commerce in their new country, so men like Frederick did their best to secure an "English education" for their sons. Henry's 1815 letter penned to James Monroe, then Secretary of War, (see below), shows that Henry had some formal education, for the letter exhibits excellent penmanship and language skills(2). This education certainly contributed to the lengthy list of activities Henry engaged in as an adult.
Henry got an early start. According to his letter to the Secretary of War, James Monroe, Henry describes his participation in the 1794 "Battle for Fallen Timbers," under General "Mad" Anthony Wayne.(3) Henry was just 18-years-old.
One of the first records we have of Henry as an adult was when he signed the voting register for the 1796 Presidential election. Henry registered as a member of the Federalist party and presumably voted for the Federalist candidate, John Adams. In a close election, Adams defeated Thomas Jefferson. Henry was not yet 21 (he was six months shy) at the time the vote was taken (voters could vote from November 4 through December 7, 1896). In 1796, states determined who were allowed to vote, and most states limited voting to white males who owned property. There may not have been a minimum age limit in Maryland.
A few years later, on March 9, 1798, Henry married Christiana Harmon. Christiana was five years older than Henry, and was apparently born in Germany.(4) She was raised in a German-speaking household. According to family lore, Christiana never learned to speak English well.(5)
At the time of his marriage, Henry was a hatter by trade,(6) but was a restless man who was always looking for new challenges. He was a deputy sheriff when he was 24,(7) and was appointed Middletown's first Postmaster two years later.(8) That same year he and four other citizens set up a lottery to finance the purchase of a fire engine for Middletown.(9) In 1809, he was a manager of one of the construction crews building the turnpike from Middletown to Boonsboro, Maryland, 10 miles to the northwest.(10) He also owned a mill with his brother John.(11) In 1810, Henry was appointed a Justice of the Peace.(12) Two years later, when the War of 1812 broke out, Henry joined the Maryland Militia as an officer and rose in rank to Lieutenant Colonel. (13) After the war he wrote to the Secretary of War asking for an appointment as an officer in the U. S. Army. In 1817 he ran for a seat in the Maryland General Assembly, but lost by just a few votes.(14)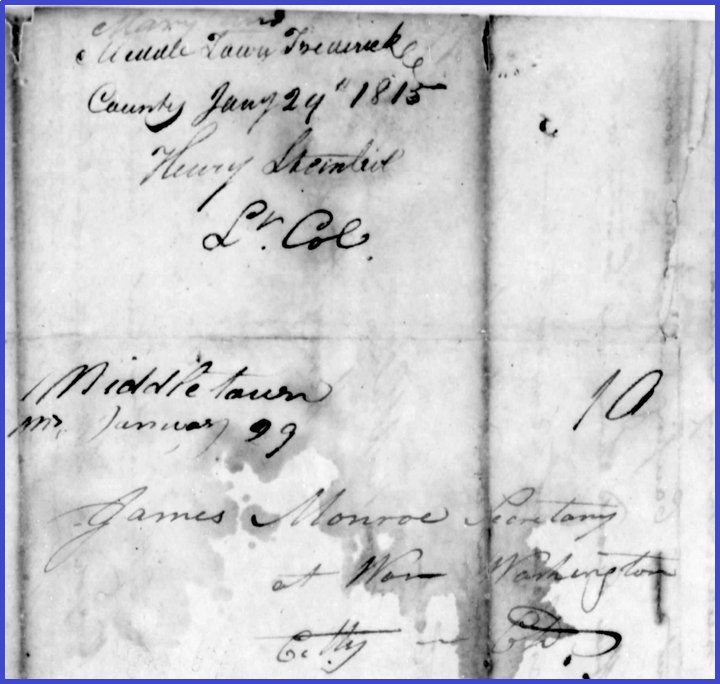 Front of Henry Stembel's letter to "James Monroe, Secretary at War" with Henry's address ("Middle Town, Frederick County"). (The letter was found online)
During this time, Henry and Christiana had three known children who lived to adulthood: Elizabeth, Caroline, and Roger Nelson. Nearly ten years separated the first and second child, so it seems likely that other children were conceived during this period, but I have found no records of any other births.
Soon after his failed election campaign in 1817, Henry moved his family to Georgetown, in the new District of Columbia(15) (at the time, Georgetown and Washington were separate towns inside the District). Once there, it appears that Henry opened a store in Georgetown, for an 1821 advertisement for farm implements in a Maryland newspaper included a list of merchants where the company's implements could be purchased. One of the establishments on this list was: "at Col. H. Stemble's, Georgetown, DC." His was the only store in the District of Columbia on the list. Given Henry's proven ambition, his primary reason for moving to Georgetown may have been its proximity to the seat of government in Washington. We know from the above letter that he had sought a position in the U.S. Army. Maybe he was still trying to secure a position in the military. Note that he used his former military rank in the name for his establishment in Georgetown.
After living in the District for five years, Henry moved his family to Dayton, Ohio. When he arrived there in 1823, Dayton was a small town of about 2,000 residents. He was the first of Frederick Stembel's offspring to move to Ohio, but within a few years others followed.
At the time of the 1810 census, Henry - living in Maryland where slavery was allowed - owned three slaves. In the 1820 census - living in the District of Columbia where slavery was also allowed - we find that Henry owned two slaves. In January 1823, just before moving to Ohio where slavery was not legal, and any slaves brought into the state would be free, Henry sold his two slaves. This was not unexpected, but who he sold them to was unexpected. He sold his slaves, Roger Davis and Harriott (no last name), to his daughter, Caroline, who was just 15 years old at the time. Caroline presumably had no income or savings, and she was also about to move to Ohio, where the two slaves would be free. So why did Henry sell his slaves to his daughter? There is a family tradition that some of Frederick's children were strongly opposed to slavery and that some took their slaves with them to Ohio to free them where they would have a better chance of success. If this was Henry's intent, why sell them to his daughter? Another possibility, unlikely but heartwarming, is the idea that as Henry was about to sell Roger and Harriott at a local slave market, 15-year-old Caroline objected because she had grown up with them (it's likely that Harriott - who was between the ages of 14 and 25 in the 1820 census - was her close childhood companion), and she was horrified at the thought that they might be sold to someone who would beat or mistreat them. Another question then arises, where did Caroline get the $650 sale price for the two slaves? Did she solicit the money from her wealthy grandfather? Would Grandpa Frederick have been able to say no to a weeping 15-year-old granddaughter? So, we're left with the questions: why did Henry sell his slaves to his daughter? Where did she get the money? What happened to the slaves? Did they accompany the Stembels to Ohio? I could find no free black male named Roger Davis in the 1830 census. If he was freed, he either died or changed his name...or possibly moved to Canada. The other, dismal, possibility was that Roger, or maybe both, were resold by Caroline and they remained in slavery.
We have no idea why Henry moved to Ohio, or why he chose Dayton. We have no record of what Henry did once he established himself there. We know that their oldest daughter, Elizabeth, married before the family's move to Ohio. They remained in Georgetown for a few more years, but eventually followed them to Dayton. We also know that their other daughter, Caroline, married a few years after her move to Dayton. We also know that in 1826 their youngest child, Roger, purchased 240 acres of land outside Cincinnati. He was just 15 (the same age that his sister Caroline found money to buy her father's slaves - an intriguing coincidence). Where did that money come from?
It seems likely that Henry, with his background in so many different endeavors, was able to establish a profitable concern in a fast-growing town like Dayton. In the summer of 1829, Henry took leave to travel back to Middletown to visit his parents and other relatives, something he did on occasion. While on this visit he fell ill and died, suddenly, on September 2, 1829(16). He was just 53 years old. He was buried in Middletown's Lutheran Church cemetery, but his tombstone can no longer be found.
Christiana lived 29 more years. In the 1850 census she was living with her son, Roger, and his family in Dayton. She was listed in the census under her maiden name, Harmon. Also living with them was a 20-year-old German woman, Catherine Harmon, probably a relative of Christiana's family back in Germany. Christiana may have desired a German-speaking companion in the household.
Christiana died in 1858 and is buried in Dayton's Woodland Cemetery. She was 87.
---
Henry and Christiana's three known children (Elizabeth, Caroline, and Roger):
A. ELIZABETH Stembel Protsman. Elizabeth was born on December 15, 1798, in Middletown, Maryland. Sometime around her 18th birthday her family moved to Georgetown in the District of Columbia. There, in 1822, she married Henry Protsman, a native of Hagerstown, Maryland.(17) I don't know if Henry came to Georgetown with the Stembels, or whether Elizabeth met him there. He was a widower who brought three children by his first wife to the marriage. He was sometimes referred to as Colonel Protsman.
The name Protsman is often recorded as Protzman. Early members of the family had their name recorded in the censuses with the "Z" but the tombstones I encountered in the Woodland Cemetery in Dayton all had the name spelled with an "S". I will use the name that is on their tombstones. However, it appears that most records and legal documents favored "Protzman".
Sometime after 1826, and the birth of their second child, Elizabeth and Henry followed her family to Dayton, Ohio.
Henry and Elizabeth remained in Dayton where they had five more children. I haven't found any information indicating what Henry did for a living, but all available evidence points to farming.(18) Henry died in 1848, at the age of 56. He is buried in Dayton's Woodland Cemetery.
Elizabeth lived for nearly 30 years more. In the 1850 census Elizabeth was living on a farm in Harrison Township, just north of Dayton. Her son, John, was single and listed as the head of household. His occupation was "Farmer." In addition to John, three of Elizabeth's sons, and a daughter, all single, were also living in the household.
In the 1860 census Elizabeth was still living on the farm, and this time she was listed as the head of household. Her son, Roger, was living with her and was doing the farming. Roger's wife, a farmhand, and two female servants were living with them. Elizabeth's farm was valued at $10,000, one of the more valuable farms in the area.
In the 1870 census, it appears that Elizabeth had sold their farm and was now living in the town of Osborn, Ohio. Osborn was just outside Dayton, just across the county line in Greene County.(19) Elizabeth was living next door to her son, John, who was a bookkeeper. Her personal estate was valued at $6,500.
Elizabeth died in 1876 and is buried in Dayton's Woodland Cemetery, next to her husband.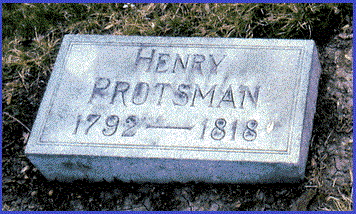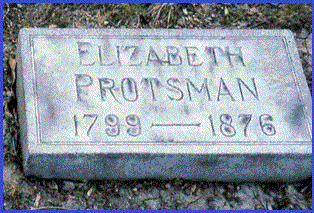 Elizabeth and Henry Protsman's seven children:
1. Caroline Matilda. Caroline was born March 17, 1823. There is some question as to where she was born. In the 1870 census, her place of birth was given as Ohio. I tend to believe she was born in Washington, D.C. (Georgetown, to be exact), because that is where her younger brother, John, was born a year later, however, her entry on the Find-A-Grave website says she was born in Morrow County, Ohio. Morrow County is northeast of Columbus. It was created from other counties in 1848, and there is no indication that her parents ever lived there when it was a different county.

Caroline was raised in Dayton, a town that was growing fast. Soon after the Protsmans moved to Dayton, construction of the Dayton-Cincinnati canal was begun, and once completed, the town became a major center of commerce. By 1840, when Caroline was 17, Dayton had grown to 6,000 people. On November 4, 1845, Caroline married Joseph Harshman. Joseph's father was from Middletown, Maryland. His parents moved to a small settlement near present-day Dayton when he was a teen. That Joseph's parents were from Caroline's mother's hometown seems more than mere coincidence.


At the time of the 1850 census, five years after they married, Joseph and Caroline were living on a farm northwest of Dayton. Joseph's occupation was recorded as "Miller." Ten years later they were living in Greene County, east of Dayton. Joseph's occupation was recorded as "distiller and miller" and his property and personal estate was valued at nearly $70,000. In the 1870 census, they were still living in Greene County. His occupation was recorded as "manufacturer" and his net worth had increased to $215,000! This made him one of the wealthiest men in the area. An 1874 map of Bath Township showing land owners shows that "J&J Harshamn" owned the sections of land where the town of Osborn was located. I assume "J and J" refer to Joseph and his brother Jonathan. Did they lay out the town and sell the lots? Osborn was the home of at least two of Caroline's siblings at this time.

Something happened, however, between the 1870 and 1880 censuses. In 1880, Joseph was no longer a wealthy manufacturer, but a farmer in Harrison Township, Montgomery County, Ohio. The most likely explanation was that Joseph was caught in the Panic of 1873, a very deep international recession that was so bad in the U.S. that the New York Stock Exchange had to close for ten days, 89 railroads went bankrupt, and 18,000 businesses failed.

Caroline and Joseph had 13 children. Of the 13, 12 survived to adulthood. Of the nine oldest, eight never married. The one who did marry was childless. The three youngest did marry, but two of the three had just one child, and the third had three children. Of Caroline and Joseph's 12 children who survived to adulthood, they produced just five grandchildren among them. However, those 12 children who lived to adulthood were remarkably long-lived. Eight of the 12 celebrated their 75th birthday, and five of those eight lived to be 80 or older!

Joseph died February 12, 1898, at the age of 77. In the 1900 census, Caroline was still living on their farm In Harrison Township. Her occupation was farmer. She was 77, and owned the farm free of a mortgage. Five of her single children were living with her, plus a grandson, Joseph Kiser, son of her daughter, Anna. Caroline died October 21, 1909. She was 86. Both she and Joseph are buried in Dayton's Woodland Cemetery.



2. John H. John was born around 1825 in the District of Columbia (probably in Georgetown). His family moved to Dayton, Ohio, soon after his birth. When John was 21 his father died and evidently left him the family farm. The 1850 census recorded the value of the farm as $17,800.

Sometime around 1852 John married Mary Jane (surname unknown). They had seven children. At the time of the 1860 census, they were living in Osborn, Greene County, Ohio. John's occupation was "Clerk." His real estate was valued at $5,920, and his personal property was valued at $500. Ten years later, in the 1870 census, John's and his family were still living in Osborn. He had risen to the position of bookkeeper. His real estate was now valued at $20,000 and his personal estate valued at $11,000.

There is some question as to how many children Mary gave birth to. I have names of seven known children and one probable child, but in the 1900 census Mary reports she has given birth to just six children, four of which are still living, and in the 1920 census she reports she had given birth to seven children, four of which were still living. Further research is needed.

John died five years after the 1870 census, on July 24, 1875. He is buried in Dayton's Woodland Cemetery.

Mary remained in Osborn for the rest of her life. She died in 1920, and is also buried in Dayton's Woodland Cemetery, as are many of their children.

3. Oliver Hazard Perry. Oliver was born in June 1827, soon after his family moved to Ohio. On September 5, 1850, he married Laura Mallissa Clark. They had ten children in all.

In 1861, at the age of 34, Oliver signed up with the Ohio Volunteer Infantry to fight in the Civil War. He spent 3 years fighting the war. He reportedly kept a detailed diary which I'm told can be found in the Wright State University Archives in Dayton (however, a review of the University's archive titles online in late 2017 did not find his diary listed). According to some family members, Oliver lost an eye during the war (the 1890 Census-Veterans Schedule shows Oliver suffered from a hernia, but there is no mention of a missing eye). I'm told that when he returned from the war, his wife's family helped set them up on a homestead in Piqua, Ohio, however the census records don't support this. At the time of the 1870 federal census, Oliver and his wife were living in Harrison Township, Montgomery County, Ohio. Oliver was a farm hand. By the 1880 federal census, they had moved to Shelby County, Ohio (which is adjacent to Miami County, where Piqua is located). They remained in Shelby County at least through 1900, but by the 1910 census they had moved to Piqua for their final years.

Of Oliver and Laura's ten children, at least 6 of them married, one never married, one apparently died young, and the remaining two were daughters who most likely married and haven't been found. Many of Oliver's children remained in Shelby County.

Oliver died May 28, 1914, in Piqua, Ohio. Laura died a year later on September 10.

4. William Hale. William was born in March 1830, in Ohio. At the age of 27 he married Mary (surname unknown). In the 1860 and 1870 federal censuses, William was a farmer in Harrison Township, Montgomery County, Ohio. In the 1880 census, William had moved to a farm in Mad River Township, Montgomery County.

William and his wife had three children. One married and the other two remained single. According to the 1900 census, only two of their three children were still living.

William died in 1913 at the age of 83. I haven't found a record of Mary's death. William is buried in Dayton's Woodland Cemetery.


5. Benjamin Franklin. Benjamin was born July 2, 1833, in Dayton, Ohio. He died three weeks after his 21st birthday in 1854. In the 1850 census he was not living with his family, in fact his name was not found anywhere in the census. According to family records, Benjamin was referred to as Dr. Benjamin Franklin Protzman, so he may have been attending school elsewhere when the census was taken. He must have been much loved by his family for two of his brothers named sons after him.

6. Roger Stembel. Roger, named after his uncle Roger Nelson Stembel, was born about 1835 in Dayton. Sometime before the 1860 census, he married Charlotte Kiser. They lived in Dayton. Roger and Charlotte had two children. Roger saw action in the Civil War.

Roger died November 27, 1865, at the age of 30. It may be significant that Roger died young (30) and both of his children died at the age of 23, however, Roger died just a year after participating in the Civil War. We don't know what caused Roger's death.

In the 1870 census Charlotte was recorded as head of household on a farm in a different township. It is being farmed by 24-year-old John Kiser, probably a brother of Charlotte's. Her two young children are living with her. The farm is valued at $10,800. Charlotte died in 1873, and is buried with her husband in Woodland Cemetery.

7. Catherine Bell. Catherine was born about 1838 in Dayton. In 1862, she married George W. Getzendaner. Based on where their seven children were born, it appears they moved to Missouri soon after they were married, but moved back to Ohio by the time their second child was born in 1867. In the 1870 census, they were living Osborn, Greene County, Ohio. George's occupation was "Hardware and Tinware Merchant." His real estate was valued at $6,000 and his personal estate was valued at $4,000. After their last child was born in 1877, they moved to Jennings County, Indiana, where they were living at the time of the 1880 census. George was a farmer. He may have lost his store in the Panic of 1873, which was a deep nation-wide, six-year depression in which thousands of businesses went under.

Catherine died sometime after the 1880 census, because in the 1900 census George's marital status was reported as "Widowed." By that time, he was living in Chase County, Nebraska, as were some of their children. Chase County was a sparsely populated county, adjacent to Colorado. Only 2,559 people were living in the entire county in 1900. George died there in 1912, and is buried in Lake View Cemetery, Champion, Nebraska.

B. CAROLINE Stembel Smith. Caroline's parents had three children. We know the exact dates of birth of two of them: Elizabeth (December 15, 1798), and Roger (December 27, 1810), but we don't know when Caroline was born (which seems strange given how well documented the other children of family members born in Middletown have proven to be). A discussion of her date of birth can be found in this footnote.(20) The only source I have for Caroline's date of birth is a date from the work of our earlier family researcher, William McLean. He gives her date of birth as 'about 1808', but there is no indication of where that date comes from. A birth date of 1808 fits everything we know about Caroline, however, so that will be the date we will use here, but my gut feeling is that she was born earlier, closer to 1806.
Regardless of what year she was born, we're certain she was born and raised in Middletown, Maryland. There was probably a big age difference between her and her older sister, so it's good she lived in town near other girls her age. From the time of her birth her father was very engaged in the community; he saw action in the War of 1812, and even ran for a seat in the Maryland General Assembly. In 1818 her family moved to Georgetown, DC. She lived there from about age 10 to age 15. I'm not sure if Caroline attended school during those years, but I suspect she had some formal education. Caroline's family again moved in 1823, this time to the small Ohio town of Dayton. Dayton had only about 1,200 people living there when they arrived. There she met and married Dr. Edwin Smith on November 27, 1827. Caroline was about 19 years old, Edwin was 24. Edwin had attended Ohio University in Athens, Ohio, and had just graduated from the Medical College of Ohio in Cincinnati.(21) He was in the process of setting up a medical practice in Dayton when they married. At the time, Edwin's father, William M. Smith, was head of the Dayton Academy, a public school for boys.
Edwin soon found that dispensing drugs as a druggist was more profitable than prescribing them, and by 1833 he was no longer practicing medicine. He remained a druggist for the remainder of his life, including the years when he served as a Trustee for the City of Dayton (1836-37), served in the Ohio legislature (1838-1839), and served as clerk to the Court of Common Pleas (1840-1847).
Caroline and Edwin had eight children, none of whom lived to see their 35th birthday! Their ages at death were 27, 26, 1, 29, 15, 30, 1, and 34. Caroline, herself, only lived to be 36. She died on September 25, 1844, possibly giving birth to her eighth child, also named Caroline, who was born that same year (I don't know the exact day).
Why did Caroline and all her children die so young? Was it due to a genetic disorder? This needs more research.
Edwin remarried and had two more children. At the time of the 1860 federal census, his occupation was listed as "Attorney at Law." The census reveals his real estate at the time was valued at $45,000, higher than all but one other entry in the census pages I examined. After his children were grown, Edwin moved to Cleveland with a son where he died in 1876. Both he and Caroline are buried in Dayton's Woodland Cemetery.(22)
Caroline and Edwin Smith's eight children:
1. William H. William was born in 1829, at Dayton. He died unmarried on April 23, 1856, at the age of 27. He's buried in Woodland Cemetery.

2. Louisa. Louisa was born in 1831, at Dayton. She married Joseph C. Peirce around 1852. They were only married for a few years before Louisa died on October 20, 1857 at the age of 26. She is buried in Woodland Cemetery. I see no evidence that they had any children.

3. Roger Nelson. Roger was born in 1833, at Dayton. He died a year later on August 12, 1834. He is buried in Woodland Cemetery. Cemetery records list his name as Roger S. Smith.

4. Stephen F. We assume Stephen was born in 1837 based on his age reported in the 1860 census (23). However, if true, in the 1840 census he would have been recorded in the "Under 5" age column, but instead he appears to have been recorded in the "5-10" column. I believe that may have been a mistake by the census taker, but he may have been born in 1835 instead. He died unmarried on September 5, 1866, at the age of 29. Dr. McLean, in a letter dated August 29, 1984, noted that his mother, Miranda Poffenberger Hefflebower, knew Stephen very well and often talked about him. He was known for his classical education and his flair for style. He is buried in Woodland Cemetery.

5. Lillie. Lillie was born in 1839, at Dayton. She died May 26, 1854, at the age of 15. She is buried in Woodland Cemetery.

6. Edwin B. Edwin was born about 1841. He died unmarried on May 18, 1871. He was about 30 years old. He is buried in Woodland Cemetery.

7. Theodore Stembel. Theodore was born in 1843, at Dayton. He died May 2, 1844. He is buried in Woodland Cemetery.

8. Caroline. Caroline was born in 1844, the same year her mother died. Considering the name given to her, it's possible that her mother died giving birth to her or that her mother was in very poor health and wasn't expected to live much longer. In the 1870 census, Caroline was still single. She was living with her father and step-mother in Dayton. Her personal estate was valued at $25,000, more than her father's combined worth ($9,000). An older brother, single, was also living with them. He had no personal estate, so Caroline's money isn't from an inheretance, or both would have an amount showing in their personal estate entry. Caroline died on September 7, 1878. She is buried in Woodland Cemetery with the rest of her family, but the name on her tombstone is Caroline S. Awl. Evidently, she married sometime between the 1870 census and her death.

C. ROGER NELSON Stembel. (Roger is the subject of a later chapter)
---
FOOTNOTES
---

1. "The Early History of Middletown, Maryland." by George C. Rhoderick, Jr. Middletown Valley Historical Society, Maryland. 1989. p.90.

2. Here is a portion of Henry's letter to James Monroe that exhibits his skills as a writer (note: words in brackets were hard to read and may not be correct):

Middle Town Frederick County MD January 29 1815

Mr. James Monroe

Dear Sir, Whereas our Country has now come to a [crisis] of Serious Importance ... All temporizing [measures] must or aught to be laid aside, otherwise our Independence will soon be Brought into question, and in [consequenses] of which my heart [shutters] and my Bosum glows with just indignation at the many Injust and depradations that has been committed on us since the Declaration of War, and Also against the [peace] the dignity and honor of the United States and our Glorious Independence which was so dearly purchased with the lives of our Fathers and cemented with their blood, ...

3. In his letter to the Secretary of War, Henry - who served as a Lieutenant Colonel in the state militia in the War of 1812 - was asking for a commission as a Lieutenant Colonel in the U.S. Army. He listed his experience and qualifications for the position, including what may have been his earliest experience, serving in the Legion of the United States at the Battle of Fallen Timber (near present-day Toledo, Ohio) on August 20, 1794, under the command of Major General Anthony Wayne. Fallen Timber was a major victory for the United States over the Indians, and the British who supported them, in what was called the Northwest Indian War (or "Little Turtle's War").

Here is the portion of Henry's letter that leads me to believe he participated in Fallen Timbers: "...I can inform you of my former servitude in our injured country cause under the, I hope never forgotten Gen'l Wayne, and particularly the 20th day of August 1794 near the rapids of the Miamia of the Lake [the rapids on Miami River near Lake Erie] a Day that tries mens sols we faught as brave as League of old or the Tippecanoe Boys on the wayback."

I have no independent record verifying Henry's service in this battle, but have no reason to doubt it.

4. An unconfirmed source gives Franklin County, Pennsylvania, as her place of birth.

5. Letter from Dr. W. McLean dated September 14, 1984.

6. This comes from the Frederick County Indentured records, abstracted in "Western Maryland Genealogy," Vol 5, No 4, p 161: "The J[ustices of the] P[eace]...bind Jacob Herring, an orphan age 15y next 8 March, to Henry Stemple, hatter, to age 21." 21 December, 1802. Later there was an item printed in the Frederick-Town Herald newspaper dated January 6, 1807 (reprinted in "Western Maryland Newspaper Abstracts, Volume 3." p. 113), that Henry Stembel had offered a reward "for the return of his apprentice (hatter), Jacob Herring, age 19."

7. Letter from W. McLean dated November 14, 1984.

8. Ibid.

9. "New Facts and Old Families." by Millard Milburn Rice, Genealogical Publishing Co., Baltimore. 1984, p. 148.

10. This comes from an article in the Frederick-Town Herald dated May 13, 1809 (reprinted in "Western Maryland Newspaper Abstracts, Volume 3." p.26)

11. This comes from an article in the Frederick-Town newspaper called Bartgis's Republican Gazette dated July 29, 1809 (reprinted in "Western Maryland Newspaper Abstracts, Volume 3." p.105)

12. This comes from an article in the Frederick-Town Herald dated January 13, 1810 (reprinted in "Western Maryland Newspaper Abstracts, Volume 3." p. 32).

13. History of Frederick County, Maryland. Vol. I, L. R. Titsworth & Co., 1910. p. 169.

14. Ibid.

15. According to Rhoderick's history of Middletown (p. 90), Henry and his family lived in a house on Middletown's lot #8, owned by his father, Frederick. Records show that Frederick sold lot #8 on April 6, 1818, after Henry had moved out, thus we assume Henry moved to Georgetown sometime before April 1818.

16. "The Diary of Jacob Engelbrecht, 1818 - 1878", edited by William R. Quinn. Historical Society of Frederick County, MD, Inc., Frederick, MD, 1976.

17. As an interesting aside, Henry's father, John, died in 1804. In his will, written June 29, 1804, he specified that funds from his estate should be used to send Henry (then aged 12), and his brother, John, to a "good English school for 18 months."

18. In the 1850 census, less than two years after Henry's death, his wife was living on a farm and his son John was farming it. We believe John inherited the farm from his father.

19. The town of Osborn had to be moved two miles to the east in 1921 because a flood-control dam was being built and much of the old town was in the flood plain. Another part of the old town (including its cemetery) was annexed by Wright-Patterson Air Force Base. The relocated Osborn was eventually merged with the adjoining town of Fairfield and is now part of that town.

20. There are 12 years between the known births of Elizabeth and Roger, so it seems logical that Caroline was born between them, but when? Unfortunately, she died before the 1850 census, which was the first census to record every member of the household, and their age, so that is no help. There is even some evidence that she may have born after Roger. In her grandfather's will (Frederick Stembel), all three of Henry's children were mentioned by name: Elizabeth, Roger, and Caroline. Was this the order of their birth? A look at the 1810 census might offer a clue. Roger was born that year, but after the census was taken, so he would not be included, nor would Caroline if she was born after him. The 1810 census recorded people by age groups and by gender. There is someone recorded that fits Elizabeth: 1 female between 10-16 (she was 11), and one that would fit Caroline if she was born before Roger: 1 female between 0-10. So, this appears to support the fact that Caroline was born between 1800 and 1810.

21. http://www.daytonhistorybooks.com/page/page/1567860.htm. [Downloaded 12/29/2017]

22. It appears the Smith's had two burial sites in the Woodland Cemetery. Edwin, and his sons Edwin, William, and Stephen are buried in one site, and Caroline is buried in another, along with her sons Roger and Theodore, and daughters, Lillie and Caroline.

Return to the top of this page

Copyright. Oren Stembel, STEMBEL FAMILY HISTORY PROJECT (familyhistory.stembel.org).