---
[Last updated: 3 February 2018]
---
Johan Friederich Stembel (Great-grandfather)
Frederick Stembel (Grandfather)
John Stembel (Father)
Theophilus Stembel
---
THEOPHILUS STEMBEL (1813 - 1902)
Theophilus was born December 9, 1813, in Middletown, Maryland.
When he was 17-years-old his father moved the family to Urbana, Ohio, where his father worked as a storekeeper. Two years later, his father bought a farm nearby. Theophilus helped his family move, and helped his father set up the farm. After working on the farm for a few years, Theophilus enrolled at the Ohio Medical College (or the Cincinnati Medical College depending on the source(1)). He graduated in 1837 with a degree in medicine.(2)
After graduation, Theophilus moved to Clarke County, Ohio, where he set up his first practice in Pike Township (northwest of the city of Springfield). He was one of Pike Township's first physicians, as noted in a history of Clarke County.(3) This is where he was living in June 1840, at the time the federal census was taken.
Soon after the 1840 census Theophilus moved his practice to the town of Independence in Warren County, Indiana, according to a biographical sketch published in 1899.(4) It's likely Theophilus moved to Warren County at the advice of his cousin, William Hoffman (William's mother was the sister of Theophilus's father), who was already living there. After arriving, Theophilus first taught school, but in 1842 he moved to nearby Rainsville, where he re-established a medical practice. A country doctor in rural Indiana had to travel extensively around the surrounding area. During his travels it appears he met a young woman in Benton County, the county just north of Warren County, that caught his fancy. This may have been what motivated him to move his practive to her hometown of Oxford. There he became that county's first resident doctor.(5) After successfully courting the young woman, Martha Ann Justus, they were married on July 17, 1845. Martha was the daughter of one of the most influential men in Oxford, Basil Justus. Theophilus was 31 years old. Martha had just turned 17. In 1846, Theophilus purchased a farm and built a house on the property for the family they planned to have.
Theophilus had many interests besides medicine. He served a term as a County Commissioner in 1849.(6) He also took great pride in breeding cattle, and even more pride in his horses. Many were prize winners. In 1855, he was appointed Treasurer of the newly formed Benton County Agriculture Society.(7) As more physicians arrived in the area in the 1850s, Theophilus decided to retire from medicine and devote his full energies to the farm and his livestock herds.
When the Civil War broke out, there was no bank in Oxford so Theophilus agreed to act as a bank for the area's men who left to fight to preserve the Union. They sent their money to him and he kept an exact accounting of their funds. He even paid interest on these sums when they returned.(8) After the war, the people of Oxford opened the Oxford Academy, the first college in northern Indiana (Purdue didn't open until 1874). Theophilus provided financial support and was one of its first Directors.(9)
Theophilus stood about 5 foot 6 inches and weighed about 160 pounds.(10) He was a compassionate man who hated any kind of cruelty to humans or animals. He loved the outdoors and went to great lengths to preserve the grove of trees on his farm. He was also unpretentious. Older family members tell me he would not allow anyone to take a photograph of him. An article about him in the local newspaper written about 1899 reported that Theophilus was a lifelong Democrat, but was not a church member.(11)
Theophilus and Martha had 10 children between the years 1846 and 1864. Then tragedy struck and their oldest son, Austin, died in November 1864 of typhoid fever. Three months later their oldest daughter, Eleanor, died of the same disease. Theophilus and Martha were devastated. However, they had two more children after the two who died - twelve children in all. Of the ten who reached adulthood, eight married. In the 1900 census, four of their children, Walter, Isabel, Perry, and Olive, were still living at home (though Isabel had married and left, but moved back after her marriage broke up in 1895.(12)).
Theophilus died in 1902, just three weeks shy of his 89th birthday. He had lost his sight many years before his death. Because of his blindness, the family continued to live in the house he had built years earlier because he could easily get around the house, even though it was old and needed work. After his death, Martha had a new house built.
Martha died three years after Theophilus. Walter and Isabelle continued to live on the farm until Walter's death in 1936. Isabelle died a year later. Perry had moved into town sometime after 1900, but moved back to the farm after Walter's death. He lived there, working the farm until his death in 1947, after which the farm was sold. (13) It had been in the family for over 100 years.
---
Theophilus and Martha's children:
A. Eleanor. Eleanor was born April 26, 1846. She died February 5, 1865, at the age of 18 of typhoid fever.
B. Jane. Jane was born September 30, 1848. At the age of 20 she married Henry Clay Harris. "Clay," as he was known, was about three years older than Jane. He had served in the Civil War (Company D, 60th Indiana Volunteers). Jane and Clay had three known children: Henry (born 1869), Blanche (1872) and Bertha (1873 or 1874). I'm told there was a fourth child, Herschel, but I have found no evidence of his existence. Given that the oldest child was named Henry Herschel Harris, I suspect he went by his middle name, Herschel, and thus the source of confusion. Clay was a farmer and sold cattle. They owned their farm free of a mortgage.
Jane died August 20, 1898. She was just 49. Henry last appeared in the 1910 census, living in Morocco, Indiana. He died March 13, 1919 (or 1918 according to his tombstone). Jane and Clay are both buried in the Boswell Cemetery, Boswell, Indiana.
[It should be noted that the dates of Jane's birth and death have been updated from earlier versions of this history. The new dates are from her tombstone; the earlier dates came from a relative's notes written from memory.]
It appears that their son Henry remained single all his life. In 1910 he was living in Inyo County, California, where his occupation was listed as Prospector. He died in 1928 and is buried back in Benton County.
Jane and Clay's two other children, both daughters, married. Blanche married Wallace Evans in 1917. They had no known children. Bertha married Amon Mauzy in 1903. They had two children, Harris and Rosalie. Blanche and Bertha, and their husbands, moved to California sometime before 1920 and both couples were living in the same apartment building at the time of the 1920 census. Blanche's husband, Wallace, died between 1924 and 1930. Bertha's husband, Amon, also died before the 1930 census, and both widows were living together in South Pasadena, California, in the 1930 census. Both remained in California and both are buried in Forest Lawn Memorial Park, Glendale, California (Bertha died in 1943, Blanche died in 1972).
C. Austin. Austin was born June 11, 1851. He died in 1864 at the age of 13. Like his older sister who died three months later, he died of typhoid fever.
D. Mary. Mary was born May 11, 1853, near Oxford, Indiana. Sometime after 1880 she married George Washington Halstead.(14) We're told that George was previously married, but we don't know if he had any children by that marriage. In 1890, Mary gave birth to a son, which they named Theophilus Stembel Halstead, after Mary's father.
In 1894 George purchased a hotel in Mulberry (Clinton County), Indiana. He also bought four lots nearby and built a house on one of them for his family. Six years later, at the time of the 1900 census, they were living on a farm in Cass County, Indiana, which George had purchased with a mortgage. Soon after the census, they moved to Virginia where George had a job rebuilding farms.
Around 1910 they moved to Charlottesville, Virginia, so their son could attend the University of Virginia. They were still living there at the time of the 1920 census, but soon after, they moved to Norfolk, Virginia. George was about 77 years old at the time, and Mary was 67. It's likely they moved to Norfolk to live near their son, who had taken a job there as a lawyer.
Three years after the move, Mary died. She was 70 years old. George died on his birthday in 1930. He was 87.
Mary and George Halstead's only child:
1. Theophilus Stembel. "Theo," as he was known, was born January 3, 1890, in Oxford, Indiana. His family moved to Virginia in the early 1900s, when Theo was in his early teens. When he was 18 his family moved to Charlottesville so he could attend the University of Virginia.

After Theo graduated in 1914 his life became quite busy, for we know he married, had two children, and served in the military all before the 1920 census.

On May 3, 1915, he married Elsie Mae Sullivan in Washington, DC. Theo was 25, Elsie was 18. Elsie was born in Albemarle County, Virginia. He may have met Elsie in college, but why did they marry in Washington, DC? Did he or Elsie get a job there after college, or was he stationed there in the Army? A year after their marriage they had their first child, George Walter, who was born in Norfolk, Virginia, on July 29, 1916.


Soon after George's birth, the United States entered WW I and Theo was sent overseas. He was not present when his second child, a daughter named Marguerite Elizabeth, was born--and he was still overseas when she died six months later.

After the war, Theo and Elsie remained in Norfolk, Virginia, where he was a lawyer for the Prohibition Department in the 1930 census. He and Elsie had three more children between 1920 and 1927.

When WW II broke out in 1941, Theo evidently rejoined the Army. Two days after Christmas, 1941, Elsie died at the age of 45. This was just three weeks after the bombing of Pearl Harbor and it is likely that Theo had orders to report to a new post in preparation for the coming war. Elsie was buried in Arlington National Cemetery in Arlington, Virginia.

Theo remarried during the war, but little is known about this marriage. Evidently it didn't last very long. Theo married again in 1946, to Alice Stackhouse, an Army nurse. There were no children of this marriage.

Theo retired from the Army as a Colonel. He and Alice moved to St. Petersburg, Florida, soon after they married. Theo died there in 1977 at the age of 87. Alice died in 1988.

Theo and Elsie Halstead's children:

a. George Walter. George was born July 29, 1916. At some point he moved to the Washington, D.C. area, either with his family, or later, on his own. In 1937 he married Eileen June Hall (who went by "June") in Washington, D.C. George began his career as a steam-fitter, but at some point he entered college and got a business degree.


He and June had four children: William Garland, James Frederick, John Stephen, and Adria Dagny (Adria is a Halstead family historian. She is the source for the information on the Halstead line).

George retired as an administrator for the Department of Health, Education, and Welfare in 1971 and moved the family to Seminole, Florida, and later, St. Petersburg.

June died in 1977. She was 60 years old. George married Joan Noga in 1990 and moved to Largo, Florida where they currently reside.

b. Marguerite Elizabeth. Marguerite was born February 9, 1918. She died six months later--a victim of the influenza epidemic that swept the country in 1918 and 1919. Her father, Theo, was overseas at the time and never got to see her. c. Richard Stembel. Richard, who went by the name of Dick, was born October 16, 1920. On January 26, 1942, he married Genevieve Annette Fiesel in the Bronx, New York. Soon after their marriage, Dick served in the armed forces during World War II. After the war, he returned to New York where he and Genevieve lived until they moved to Florida later in life.

Dick and Genevieve had six children: Richard Stembel, Jr., Peter Allen, Sharon Lee, James Randolph, Robert Scott, and Carol.

d. Mary Francis. Mary was born June 11, 1923. On January 27, 1943, she married Clytus Allen Freeman, Jr. They had three children: Robert Allen, Steven Douglas, and William Brewster. Mary died in 1973 at the age of 50. e. Robert Ogden. Robert was born September 15, 1927. He attended Fork Union (Virginia) Military Academy. After graduation he saw action in World War II. He was discharged in 1948. Tragedy soon struck, however, as Robert was hit by an automobile and killed on May 1, 1950. He was just 23. He is buried in Arlington National Cemetery, Arlington, Virginia.
E. Frank Holton. Frank was born July 29, 1854. He worked on his father's farm until he was 18, then went to work on his brother-in-law's (Clay Harris) farm for a few years. In 1878, he moved to a 160-acre farm in Oak Grove Township, Benton County. Two years later he married Ida Jane Runner. Eventually he purchased a second farm in Grant Township, Benton County.
Frank and Ida had two sons and a daughter. Sometime between the 1910 and 1920 federal censuses, they got a divorce, although in the 1920 census they were living next to each other.
Frank died December 12, 1920; Ida died in 1929. Both are buried in Oxford's Justus Cemetery.
Frank and Ida Stembel's children:
1. Charles Kenneth. Charles was born in 1881. He married Ruth Baldwin in 1904. Ruth loved to write and in her later life she wrote a book about her Baldwin family.(15) It contains a chapter about her life with Charles (a copy can be found in the Library of Congress).


Charles and Ruth had four children. Their first born, a son named Kenneth, died two days after his birth. A year later they had a daughter, Esther Lois, followed by Audrey Lenore, and later, another son, Donald Willis. Audrey was the source of much of the information about Theophilus' descendants.

Charles and Ruth moved to Texas in 1912 and tried farming, but there was little market for their produce, so two years later they returned to their farm in Benton County.

Ruth was an avid gardener and every year she had a huge display of peonies, over 200 varieties. People would drive by the house every year to admire the peony display.

Charles died in 1967 at the age of 86. Ruth died in 1974. She was 90. Both are buried in Oxford's Justus Cemetery.

2. Mary Edna. Mary Edna was born October 21, 1884. Edna, as she was known all her life, graduated from the Oxford Academy and went on to get a degree at Indiana University. She married George Lincoln Roby in 1931. They had no children, but after the death of her sister-in-law in 1933, they raised her son, Kingston (see below). In 1940 Edna's husband died. Edna remained single for the next decade, but in 1952 she married again, to Dr. Daniel Miller.


Edna had a college degree and used it to become a successful business woman at a time when women were generally discouraged from being assertive. She became the Editor, Secretary-Treasurer, and Manager of the Benton Review Publishing Company.

Edna died February 14, 1982, at the age of 97.

3. Ralph Runner. Ralph was born January 3, 1887. He grew up in Benton County. On New Year's Day, 1910, he married Edna Waldrip. They had three children, all boys, but the oldest died in infancy. Ralph was a farmer and worked as a printer for the Benton Review Publishing Company. According to his granddaughter, Judy Thomas, Ralph loved horses. He also loved his wife Edna very much, but Edna died young in 1933. She was just 44 years old. Ralph was devastated and never remarried. He died after a short illness in 1961. Ralph was laid to rest with his wife in the Justus Cemetery, Oxford.


Ralph and Edna Stembel's children:

a. Glen. Glen was born in 1913. He died as a baby.
b. Byron. Byron was born October 4, 1915. Just months after graduating from high school his mother died. Soon after, he married Margarite (surname Brantley?). They had one child, Adrian Jan (Sr.), but the marriage didn't last, and in 1938 he married Marjorie Ann Judy. They had a daughter, Judy Lee in 1939, but this marriage, too, didn't last long. In 1943 Byron married Eva Mae Smith and two years later had a daughter, Kay Zo in 1945.

Byron was known as "Doc." By the mid-1950s Doc owned a farm where he raised polled Herefords, and owned Stembel Produce, a feed and supply company. Evidently Doc's third marriage was a good one. This writer stumbled upon a book written by a man who, as an adolescent, needed a male role model and Doc Stembel took him under his wing and treated him like a son. The author, B.A. Butts, was about the same age as Doc's daughter, Kay, and they became fast friends for the seven years that the relationship lasted. Mr. Butts devoted most of a chapter to his relationship with the Stembels, and how important Doc was to him at a time in his life when he needed a father-figure badly. But it came to an end when the author went off to college in 1962.(16)

Doc's wife, Eva, died suddenly of a brain hemorrhage in 1973. In 1974 Doc married Maria Rupa, who was about 7 years younger than him. In 1991 Doc learned he had cancer. he died about a year later, in Gibson City, Illinois. He and his wife, Eva, are buried in the Elliott Cemetery in Gibson City. Maria died in 2012 and is buried in the Drummer Township Cemetery, near Gibson City.(17)

Byron had three children. Adrian Jan was born June 25, 1935. He moved to Tennessee, married, and had three children, Adrian Jan, Jr., Michael, and Brett. They lived in Coffee County, Tennessee, where Adrian died August 2, 1997. Byron's second child, Judy Lee, was born December 30, 1939. She married Jerry Thomas and had a son, Bradley. They lived in Bourbonnais, Illinois. Judy died April 18, 2014. Byron's third child, Zo, was born March 8, 1945. She married William Proctor after high school. They had a daughter, Jamie, born in 1968, but they divorced soon after her birth and Kay remarried in 1969. She was now Kay Bradshaw. Kay worked for United Parcel Service in the 1980s. On May 26, 1993, Kay fell down a stairway. Her neck was broken and she died immediately.


c. Kingston. Kingston was born in 1921. After his mother's death, he was raised by his aunt Edna. In 1944 he married Anna Maxine Nichols, who goes by Maxine. They had a son, Charles Kent. King, as he was known, attended Indiana University. He also served in the Army during World War II, where he earned a battlefield commission. He later saw action in the Korean Conflict. In civilian life, he was a farmer, a musician (drummer), and a newspaper editor. He wrote a popular weekly column called "King's Komments" in the Benton Review. King suffered from diabetes which contributed to his death in 1991.

F. Elbert. Elbert was born April 16, 1856, on his family's farm outside Oxford, Indiana. He worked on his father's farm while completing six years of school. At the age of 27, still single, he moved to Missouri. There he met and married Anna Mary Strite. Anna was about ten years younger than Elbert, her mother was Swiss.
Elbert and Anna's first two children were born in Missouri (in 1890 and 1892). Their third child was born in Kansas (1899). From Kansas they moved to the Indian Territory (now Oklahoma) where they were enumerated in the 1900 Census. Two years, still living in Indian Territory, Anna gave birth to twins (one of which died soon after birth). By 1905, however, they were back in Kansas where they appeared in the 1905 Kansas State census, but between 1905 and the 1910 federal census they moved once again, back to Elbert's home county in Indiana. Elbert and Anna stayed in Indiana for the rest of their lives, though they moved to Morgan County in 1920 and then to Boone County by 1930.
Elbert and Anna had five children, four of whom lived to adulthood. This writer interviewed on of their children, Clarence, in 1983. He told of an interesting event while his parents were living in the Indian Territory. One day a U.S. Marshal came to his parent's door and said he had just shot two horse thieves on their land and needed some help. When they reached the two men, one had already died. His father helped the Marshal take the remaining man into town for medical attention (and jail).
Anna died in 1946. Elbert died in 1953 at the age of 97. Both are buried in Justus Cemetery in Oxford, Indiana.
Elbert and Anna Stembel's five children:
1. Elbert Harris. Harris (he went by his middle name) was born in 1890, in Missouri. His childhood was spent moving with his family to Kansas, then the Indian Territory, back to Kansas and finally to Indiana where his father was raised. There he married Clara Lindsey on February 28, 1914. Harris was a grain elevator manager most of his adult life.

Harris and Clara had no children, but when Harris's brother's wife died in 1938 (see the entry for Howard Earl Stembel below), they agreed to take in their son, Joseph, and raise him. Joseph was about nine-years-old at the time. Joseph had to move from his Boone County, Indiana, home to Elbert's home in Benton County. It must have been tough losing his mother, then moving to a new home, but Joseph did well, graduating from high school, then serving in the military, and then earning a degree in Electrical Engineering from Purdue University.

Elbert died in 1974, Clara died in 1980. Both are buried in the Justus Cemetery, Oxford, Indiana.


2. Walter. Walter was born July 26, 1892, in Clayton, Missouri. He moved with his family to the Indian Territory and Kansas and then Indiana. He served in the military during WW I, but never married. He continued to live with his parents until their deaths. He died in 1982 in Tippecanoe County, Indiana, at the age of 90.
3. Howard Earl. Earl, as he was known, was born October 8, 1899, in Lafontaine, Kansas. He served in the U.S. Army during WW I and WW II. (18.) On January 26, 1928, in Martinsville, Indiana, he married Beryl Gregory. They had two children, Joseph and Barbara. Beryl died of an accidental shooting in 1938 at the age of 32. Earl was devastated at the loss of his wife and he moved back in with his parents who lived nearby. It was decided that their children, then ages 8 and 6, should be raised by others. Joseph went to live with his Uncle Harris and Aunt Clara, and Barbara went to live with a sister of her mother's. Earl never remarried. He died in 1994 in San Diego where he was living with Barbara (who had married Charles Hagee and had two children). Earl was 95. He is buried in the Maple Lawn Cemetery in Thorntown, Indiana.

Earl was a Civil War buff. He read Civil War magazines and enjoyed discussing the war with his grandchildren according to his grandson, Robert Hagee.


4. & 5. Emmett and Clarence Jerome (twins). They were born August 14, 1902, near the Hominy Trading Post in the Indian Territory (now Oklahoma). Emmett died as an infant.


Clarence's family returned to Indiana sometime before 1910. He graduated from Oxford High School in 1920,(19) and attended Butler University. He then moved on to Indiana University where he did graduate work. Clarence taught high school, coached cross-country and track, and was later a vice principal.(20)

Clarence was known to everyone as C.J. In 1928 he married Anna Erwin. They had one child, Mary Alice. Anna died in 1936. She was just 33 years old. Clarence was left to raise his daughter who was just 6 years old. In 1937, Clarence married Ethel Larm, who happily agreed to raise Mary as her own. Clarence and Ethel also had a son, John, together. Ethel was a graduate of Indiana University where she was the first woman editor of the student newspaper.

In the 1940 census, Clarence and Ethel are living in Indianapolis where Clarence is a high school teacher, earning $1,480 a year, and Ethel is a stay-at-home mom, raising their two children. The census shows that both Ethel and Clarence have completed 5 years of college.

Eventually Clarence and Ethel moved back to Benton County where Clarence grew up to teach school. Their daughter Mary Alice attended Indiana University, married, had two children, and died young at the age of 43. John remained in Benton County where he was a farmer. Clarence died in 1990 at the age of 88. Ethel died in 1996. She was 100 years old. Clarence, Anna (Clarence's first wife), and Ethel are buried in Oxford's Justus Cemetery.
G. Isabel. Isabel (This was the spelling of her name on her tombstone) was born May 27, 1858, in Oxford, Indiana. She grew up on the family farm and attended school in Oxford. On October 11, 1881, she married William Rufus Phares. William was born in Ohio in 1853. When he was three, his family moved to Oxford. William sold boots and shoes. In 1883 they had a son, and three years later they had a daughter.
The marriage apparently ended, for at the time of the 1900 census Isabel was living with her parents and her marital status listed as divorced. William was living nearby with a new wife. William died in 1926. His obituary indicates he had remarried in 1898.
Isabel never remarried. She lived with her younger brother, Walter, in the Stembel family house until Walter's death in 1936. Isabel died April 1, 1937, just three months after Walter. She was 78. Isabel is buried in Oxford's Justus Cemetery.
Isabel and William Phares's two children:
1. Perry S. Perry was born July 28, 1883, in Boswell, Indiana. In the 1900 census he was living in Oxford, Indiana, with his father and step-mother. On June 10, 1903, he married Laura Perigo. At some point, Perry and Laura moved to Lafayette, Indiana, where he opened a shoe store, according to relatives.


Perry and Laura had two children. In the late summer of 1932, Perry developed an inflammation of the gallbladder. He was taken to St. Elizabeth's Hospital nearby where they operated for gallstones. Sometime after the surgery, he developed a pulmonary embolus (a clot in his lung). There was nothing the doctors could do to save him. Perry, who was conscious the whole time, and his family could only wait for death. A few days later, on September 4, Perry succumbed. He was 49.

Laura lived almost 15 more years. Three days after her brother, Frank, died, Laura - returning from the funeral with her two daughters and a son-in-law - leaned over to take off her boots and collapsed to the ground. The family quickly carried her to the couch where she began to vomit blood. An ambulance was called, but it took a long time to arrive. When it arrived, Laura was in a coma. She never regained consciousness and died at 8:00 on the evening of April 29, 1947.

Perry and Laura are both buried in Lafayette's Rest Haven Memorial Park.

Perry and Laura Phares's two children:

a. Esther Marion. Esther was born in Lebanon, Indiana, on November 12, 1907. She attended Purdue University, graduating in 1929. She went on to earn a second degree in Library Science at the University of Illinois. While working at the university library, she met Hazen Whalin who also worked at the library. They fell in love, but could not get married because one of them would have to quit their job (during the Depression the library had a rule that only one family member could work there). In the end, they were forced to elope. Unfortunately, Esther's father died before they could reveal their secret.


Esther and Hazen had one child, Barbara Ruth, who was born in Champaign, Illinois.

After graduation from the University of Illinois, Hazen worked for the Federal Land Bank of St. Louis. He worked there for 38 years before retirement. Hazen died in 1996. Esther died November 17, 2002, in Jacksonville, Illinois.

b. Eleanor Ruth. Eleanor was born in Lafayette, Indiana, on March 14, 1913. Eleanor married William Wells McNeil (known as "Wells") in the 1930s. They had one child, Don Wells, who was born on May 19, 1939.


Wells and Eleanor divorced at some point. Eleanor then married Alonzo Stivers.

Alonzo died in 1972. Eleanor lived about 15 years longer. She died on May 12, 1987. Both Eleanor and Alonzo are buried in Lafayette's Rest Haven Memorial Park.

[Much of the information about Perry & Laura Phares, Esther & Hazen Whalin, and Eleanor & Wells McNeil was provided by Esther's daughter, Barbara Whalin Makant, Tallahassee, Florida.]

2. Ruth Violet.(This is her name on her tombstone). Ruth was born November 10, 1886, in Oxford, Indiana. In 1909, at the age of 22, she married Elmer Atkinson. Elmer was a farmer. It appears they lived in the Oxford area all their life. They had two children, Harriet (who married Harley McDonald), and Olive Rosamond (who married -?- Roberts and had a son, Maurice Paul Roberts). Elmer died in 1954. Ruth died in 1967. Both are buried in Oxford's Justus Cemetery. Much of my information about Ruth comes from her grandson.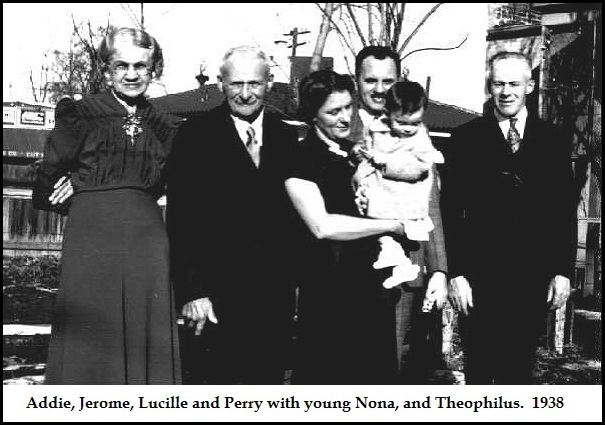 H. Jerome. Jerome was born in Oxford, Indiana, on December 11, 1860. He grew up on his family's farm, part of a large family, with seven older siblings (two of whom died when he was about 5-years-old), and four younger siblings. He worked on the family farm until he was 22 when he and his older brother, Elbert, traveled to Missouri. Elbert remained there while Jerome moved on. In 1886 he married Addie Potter. Jerome was 26, Addie was 19. She accompanied him on his travels. We know some of the places they lived after their marriage based on the places their four sons were born, censuses, and various city directories in which they appeared.
In 1889 they were in the small community of Grant, Colorado (40 miles southwest of Denver, elevation 8,600 ft), where their oldest son, John, was born. In 1890, they were in Salt Lake City, Utah (city directory). Four years later they were still in Salt Lake City, where their second son, Theophilus, was born. In 1898, they were living in Los Angeles, appearing in the city directory (Jerome was a fruit dealer) and their third son, Jerome, Jr. was born. By 1900 they were living in Kansas City, Missouri, according to the census. In 1903 their youngest son, Perry, was born in Vernon County, Missouri (about 90 miles south of Kansas City, on the Kansas border). In the 1910 census, Jerome had a farm in Miller County in central Missouri. By 1917 they had moved again, to Denver, where the city directory listed Jerome's occupation as owner of 'Stembel's Grocery' at 400 Kalamath St. The next year the Denver city directory indicates Jerome had moved the store and his residence to Tejon Street.
His family settled permanently in Denver, but Jerome spent the rest of his life as a miner. He owned a silver mine west of Denver, near the tiny community of Lawson in Clear Creek County. This is where Jerome was recorded in the 1920 and 1930 censuses. I suspect this is what he was looking for in all his travels around the west(21). He lived at his mine year around until his death. His wife, Addie, occupied their residence in Denver and provided a house for Jerome and their family until her death.
Jerome died on February 2, 1941. Addie died February 25, 1950. Both are buried in the Crown Hill Cemetery in Wheat Ridge, Colorado.
Jerome and Addie Stembel's four sons:
1. John Hudson John was born June 22, 1889, at Grant, Colorado. I'm told he was killed in a railroad accident on August 12, 1912, near Keechlus, Washington. John was just 23 at the time of his death. He is buried in the Evergreen Cemetery, Fort Scott, Kansas. He was not married.
2. Theophilus. Theo, as he was known, was born September 7, 1894, at Salt Lake City, Utah. He was also known as "Silver." He never married. He served in the Army in WW I. He was a Private in the Aero Squadron. According to the Denver city directory he worked for the Shaeffer Tent & Awning Company in 1920. He continued to work there until at least 1932. In the 1945 city directory, Theo was a manager at the Acme Sun Tent and Awning Company. In 1947 he was Secretary-Treasurer of the same company. He evidently held that position until his retirement. He died in 1969 in Hawaii. He is buried in the National Memorial Cemetery of the Pacific in Honolulu. The name on his tombstone is Theodore H. Stembel
3. Jerome, Jr. Jerome was born July 25, 1898. He saw service in the U.S. Navy during WW I. At one point he was an Electrician 1st Class on the U.S.S. Maumee. He was discharged in 1919. In the 1920 census, he was living with his father at his mine near Lawson, Colorado, his occupation was miner. In the 1923 Denver city directory Jerome was back in Denver, living in his parents home. He was a driver for a fruit company. Jerome died after a tonsillectomy on February 15, 1924, in Silverton, Colorado, in the southewest part of the state. We don't know why he was there at the time. He was 25 years old. He is buried in the Crown Hill Cemetery in Wheat Ridge, Colorado. He never married.
4. Perry. Perry was born September 1, 1903, in Vernon County, Missouri. His parents moved frequently around the west. Perry was in his early teens when his parents settled for good in Denver. In the 1920 census, 16-year-old Perry was recorded with an occupation of salesman. In 1926, Perry married Lucille Ehlinger at Golden, Colorado. They had two children, Nona and Paul.

In the 1930 census, Perry was a presser in a dry-cleaning establishment. In the 1945 city directory his occupation was manager of a dyeing and cleaning firm. By 1960 he owned his own establishment, "Perry's Cleaners."

Perry died on June 17, 1972. Lucille died June 27, 2000. Both are buried in Crown Hill Cemetery, Wheat Ridge, Colorado.





Perry and Lucille Stembel's two children:

a. Nona Marie. Nona was born on Christmas Eve, 1937, in Denver. In 1960 she married Germán Rivera in Oaxaca, Mexico. She was working for the Denver Board of Education at the time.

Nona and Germán had four children: Julieta (Julie), Jorge, Jacquelina (Jackie), and Germán, Jr. (Gerry). All four were born in Mexico. Jorge died in infancy. Julie and Jackie are married and live near Denver. Gerry died in 1998 of injuries suffered in an auto accident. Nona is retired and lives in Denver.

b. Paul Jerome. Paul was born in Denver on December 15, 1943. After serving in the U.S. Army, he married Barbara Deslongchamp on November 4, 1967. They have two children, Troy and Traci.


Paul was a police officer for the Commerce City, Colorado, Police Department. He retired from the department in 1989. He now works for the Adams County Sheriff's Office and lives in the Denver area.
I. Perry.
Perry was born September 2, 1862, near Oxford, Indiana. He grew up in a large family with a number of older siblings. He worked on his family's farm until early adulthood when he decided he'd rather work in a bank than a farm. In the 1900 census, Perry was still single and living with his parents, but working as a bank cashier. By the 1910 census Perry was still single, but was living by himself in nearby Fowler, Indiana, and working as a bank cashier. It appears that Perry was a bank cashier all of his adult life. He was also a member of the Independent Order of Odd Fellows (I.O.O.F.), a men's social organization that was particularly popular in small towns in that era.
In 1916 Perry was involved in a tragic automobile accident that took the life of his companion, Iva Markle, that day. Iva was a nurse in Indianapolis. She and Perry planned a day drive in the countryside. Sometime during the day, Perry let Iva, an inexperienced driver, drive his car. In the town of Waynestown she got disoriented and drove onto some railroad tracks just as a fast-moving train was approaching. The train hit their car and Iva was killed instantly. Perry was severely injured, but lived. I'm not sure how the two knew each other or how this affected Perry for the remainder of his life.
Sometime after the accident Perry moved back to the family's home outside Oxford. Perry's brother, Walter, and sister, Isabella, were living there. Perry still continued to work as a bank cashier.
According to a nephew, Perry inherited his father's love of horses, it was his passion in life for he never married. A relative who visited Perry in 1940 - he was living alone by then - recalls watching Perry drive his 25 horses to pasture one morning and still remembered, 45 years later, what a beautiful sight it was. They were extraordinary animals.
As he grew older, Perry became severely crippled by arthritis, to the point where he could no longer spend time with his horses. The two siblings he once shared the house with, his brother Walter and sister Isabel, died in 1936 and 1937 respectively, leaving Perry to live alone. He eventually became so despondent that on July 17, 1947, he took his life with a revolver. His youngest brother, Basil, had died a month earlier. With Basil's death, Perry was the last of his parent's 12 children alive. Perry is buried in Oxford's Justus Cemetery.
J. Walter. Walter was born on October 10, 1864. He never married. He lived with his father and mother on the family farm. Walter worked on the farm with his father. As his father grew older, Walter took over most of the farming responsibilities. After his parent's death, Walter and his sister, Isabelle, lived on the farm until their own deaths. Walter died on New Year's Eve, 1936. Walter is buried in Oxford's Justus Cemetery.
K. Basil Justus. Basil was born January 29, 1867, near Oxford, Indiana. After high school he continued his education at the Indiana Dental College in Indianapolis. After graduation he remained in Indianapolis where he set up his practice. In 1902 he was involved in a bizarre scandal that was widely reported in the regional press for a few days. He claimed he was the victim of a "Badger Game" scam. The scammers were an out-of-town couple who set him up and then tried to blackmail him. The incident didn't appear to have hurt his dental practice, however.
Ten years later, at the age of 45, he married Frances Robinson. Frances was 25. They had no children, but they did adopt a son, Howard, who took the last name Stembel.
Oddly, Basil's age recorded in the federal censuses beginning in 1900 was always 5-6 years younger than his real age, not an unusual practice since census agents merely recorded what they were told.
Basil died on June 15, 1947, in Indianapolis. He was cremated and his ashes were spread over the Stembel family's cemetery plot in Oxford's Justus Cemetery.
L. Olive. Olive was born November 21, 1868. She was the youngest child of the family. At the time of the 1900 federal census she was 31 years old, single, and living with her parents. Seven years later she married Joseph Morse. Soon after they married, they moved to Wabash County, Indiana, where Joseph had a farm. They had two children, both of whom died soon after birth. They were living in Wabash County in the 1910, 1920, and 1930 censuses, but in February 1934, they moved back to Olive's hometown of Oxford in Benton County. Eight months later, Olive was taken to a hospital in Indianapolis, where she died three weeks later on November 12, 1934(22). Olive is buried in Oxford's Justus Cemetery. Joseph didn't remarry. He died 28 years later in 1962. He, too, is buried in Justus Cemetery.
---
FOOTNOTES
---

1. From Theophilus Stembel's obituary published in an unknown newspaper within a week after his death in 1902. According to "Genealogical Helper", Vol 38, No. 5, p. 124, the Medical College of Ohio, Cincinnati, no longer exists.

2. History of Benton County, Indiana. Vol. III, by Elmore Barce and Ray Jones. Benton Review Shop, 1931. p. 47.

3. A history of Clarke County, Ohio, published in 1881, mentions a "Dr. Stemble" as one of the earliest doctors to practice medicine in Pike Township of that county (Pike Twp. Is just northwest of the city of Springfield).

4. Williams, D. McA., "Biography of Dr. Theophilus Stembel," published in the Benton Review, Oxford, Indiana, ca 1899.

5. Barce and Jones. History of Benton County, Vol. III. p. 22.

6. Barce and Jones. History of Benton County, Vol. III. p. 48.

7. Ibid.

8. Ibid., p. 47.

9. Ibid.

10. Ibid.

11. Williams, D. McA., Benton Review.

12. Barce and Jones. p. 47.

13. This is from an undated letter (given to me in 1983) written by Audrey Stembel, Theophilus' great-granddaughter.

14. Mary bore their first (and only) child in January of 1890, I surmise they were married sometime in 1888 or 1889.

15. Stembel, Ruth Baldwin. The Baldwin Heritage. Self-published, ca. 1964. A bound copy can be found in the Library of Congress.

16. The book referred to here is Born To Be Damned, Tapestry of a Gay Man. AuthorHouse, Bloomington, Indiana. 2010. Available from Google Books. The Chapter about Byron "Doc" Stembel is titled "An Adoptive Family."

17. Byron was married four times and had three children. This writer has been in touch with relatives who knew Byron, plus I've read the book by the young man who wrote the book detailing his years being part of Byron's family, and it's interesting the wide range of opinions others had of him. Evidently his first two marriages and the children from those marriages left some raw feelings when he left. On the other hand, others have written me praising him as a wonderful husband/father/uncle, etc. The passages from the book by B.A. Butts describing how kind Byron (Doc) was to him, not written to this writer, but to a wider audience, are impressive: "Doc let me drive their new 1962 Chevrolet before he did Kay. He trusted me. Doc is the man who taught me how to drive on the highway, not my father. It was my first experience with a father-son relationship and was very special for me. Doc talked to me and showed me how to do things a boy should know how to do. He actually seemed to enjoy my company. I felt like a respectable, trusted young man for the first time in my life."

18. From Earl's obituary. Newspaper and date unknown. Sent to me by Maurice Paul Roberts, descendent of Isabelle Stembel.

19. Birch, Jesse Setlington, History of Benton County and Historic Oxford, ca 1929. p. 329.

20. From the obituary of Clarence J. Stembel, published March 12, 1990. Newspaper unknown.

21. Elbert's son, Clarence, told me a story about Jerome. Evidently one winter Jerome got caught in a blinding blizzard. While trying to get home his horse died. Since he was closer to town than his home, he headed to town on foot. Before he reached town his shoes got soaked with water and then froze to his feet. He finally stopped and built a fire and placed his shoes next to the fire to thaw. Exhausted, he fell asleep, however, and when he woke his shoes had burned. Luckily, a cowboy came along and gave him a ride into town.

22. This is the date of death on her tombstone. Other reliable sources say she died November 13th.




Return to the top of this page

Copyright. Oren Stembel, STEMBEL FAMILY HISTORY PROJECT (familyhistory.stembel.org).