---
[Last updated: 5 June 2016]
---
Johan Friedrich Stembel (Great-grandfather)
Frederick Stembel (Grandfather)
John Stembel (Father)
Oliver Stembel
---
OLIVER FREDERICK STEMBEL (1825 - 1887)
Oliver was born January 17, 1825, in Middletown, Maryland. He was John and Eleanor's 10th child, but at the time of his birth, he had just three older siblings: a sister 12, a brother, 11, and another sister 5.
When Oliver was about 7, his family loaded their belongings into covered wagons and moved to Urbana, Ohio. A few years later, his family moved to a farm a few miles northwest of Urbana. That's where he grew up.
In 1850, Oliver married Margaret Sharp in nearby West Liberty. He was 25. She was four years younger. According to a granddaughter, both of Margaret's parents perished in a flood in Johnstown, Pennsylvania, (not the Johnstown flood, however) and Margaret came to Ohio with another family, possibly as a servant.(1) Oliver and Margaret had five known children, all born in West Liberty, Ohio. Sometime after 1880, Oliver, Margaret, and their daughter Eleanor moved west in hopes that the drier climate would alleviate Oliver's asthma. They first moved to Kansas, but eventually settled in Valley City (Johnson County), Missouri, not far from the family of his late cousin, Jacob Stembel (son of Frederick Stembel, Jr.). Jacob's widow had moved to Johnson County, with her son and his wife, 20 years earlier.
It appears that Oliver's four sons eventually followed their parents to Missouri (although one returned to Ohio later).
Oliver was reputedly an avid outdoorsman who enjoyed hunting and fishing. He passed away in 1887 at the age of 62. Margaret stayed on in Missouri. She died 14 years later. Both are reportedly buried in Knobnoster, Missouri, but I was not able to locate their graves on a visit there, however. I have since been told there are no markers on their graves.
---
Oliver and Margaret's children:
A. John Bradford (or Benjamin). John was born October 20, 1851. He was raised in Ohio. In 1882, he traveled to Missouri with his brother Marcellus and a cousin, Albert Stembel, son of his uncle Joseph. He was about 30 at the time of this move. He eventually settled in Kansas where he married Mary Hoskins (he may have been married before). He and Mary had three children between 1892 and 1898: Roy, Willard, and John Benjamin. Soon after John Benjamin was born in 1898 something happened to the marriage because in the 1900 census John had a new wife.
The same 1900 census shows Roy and Willard living with their Uncle William (John's brother) in nearby Missouri.
John, Jr., on the other hand, was living with an innkeeper in Bonner Springs, Kansas, according to the census. Family lore claims he was crippled by a fall when he was a baby.
Curiously, John, Sr. was also living in Bonner Springs in 1900. He was living in a rented house on Shively Avenue with his new 18-year-old wife, Nellie Fry. They had a one month old daughter, Gladys. Even more curious, the census taker recorded 48-year-old John's age as 35! Also living with them were Nellie's mother, Catherine,(2) Nellie's 16-year-old brother, and a 49-year-old widow, who was boarding with them. Evidently this marriage ended soon after, for Nellie remarried about 1903.
According to a family member, John died sometime around 1928.
John Stembel's four children:
1. Roy Willis. Roy was born July 30, 1892, in Kansas. Sometime before 1900, he went to live with his Uncle William (his father's brother), who raised him. Roy never married. He spent most of his adult life living near Bonner Springs, Kansas where he trapped gophers for farmers. According to Mary Stembel Davis, sometime in his life he suffered sunstroke and could not do heavy labor.(3)

Roy died on Christmas Day, 1958.

2. Willard L. Willard was born September 6, 1895, in Kansas. Sometime before 1900 he and his brother Roy (above) went to live with his Uncle William in Johnson County, Missouri. Willard died on March 15, 1911. He was 15 years old. 3. John Benjamin John was born on February, 20, 1898. At the time of the 1900 census, he was living with an innkeeper and his wife, Fred and Fanny Ingersoll. They were childless, and may have adopted him, for John's father was living nearby. His father was newly married and had a new one-month-old baby. According to Mary Stembel Davis, John was crippled from a fall as a baby. He was supposedly mistreated by his mother.(4)

At the age of 15 John was living in a special home for wayward boys in Chino, California. When the United States entered World War I, John enlisted. I'm not sure if he served overseas. At the time of the 1930 census, John was back in California, living in Los Angeles, California, and working as a laborer for the city. He was residing in a boarding house with the owner, Ella Westphal, 73, a widow whose relationship with John was recorded as his step-mother.

In the early 1950s John was a watchman at the city's water and power agency. In 1952 John was admitted to the West Los Angeles Veterans Administration Hospital where he died March 9, 1955. He is buried in their cemetery.

4. Gladys D.. Gladys was born in April of 1900, at Bonner Springs, Kansas. She was the first child born to John's second wife, Nellie. At the time of the 1920 census, Gladys was living in Kansas City, Kansas, living with her mother and step-father, Henry Kosmyer. Later Gladys married Marvin Kueck. In 1963 they were living in Rainbow Lakes Estates, outside of Dunnellon, Florida.
B. Marcellus Lafayette. Marcellus Lafayette, known as "Lafe," was born August 12, 1855, in Champaign County, Ohio. According to family tradition, when Lafe's father, John, moved his family to Ohio, they were accompanied by one or more of the Stembel's slaves. Once in Ohio, they continued to live with or near the Stembel family. When Oliver's second son was born, a former slave who was their nanny, was given the privilege of naming the baby. She chose Marcellus Lafayette Stembel.(5) This woman figures prominently in another incident in Lafe's life. As a child, Lafe sustained an injury to his arm and developed a severe case of blood poisoning. It spread to the point where the doctor was considering amputating his arm if it didn't improve soon. The nanny appealed to the family not to allow the amputation, but to let her apply a traditional poultice to his arm. Within a day of the application of the poultice, the infection was under control and his arm was saved.(6)
I believe it is highly likely that the Stembels who moved to Ohio freed their slaves and took them with them, although they don't show up in the census records (however, in the 1830 census a young black girl was living in the household of Frederick Stembel, John's brother, who lived in Xenia, Ohio, 50 miles south of West Liberty).(7) Though technically free, the former slaves probably lived with, or near, the Stembels and continued to work for them. I believe it's likely census takers ignored the free blacks living with the Stembels, or maybe the Stembels didn't volunteer the information to the census takers for whatever reason.
Lafe traveled to Missouri in 1882 with his older brother John, and a cousin Albert Stembel (a son of Joseph Stembel, Oliver's younger brother). Just before Lafe left, his Aunt Maria (Maria Josephine, Oliver's sister) gave him a Bible dated March 30, 1882. The Bible was last in the possession of his daughter, Mary Stembel Davis.
Evidently Lafe did not remain in Missouri very long, for just over a year later he married Emma Ida Clark in Spring Hills, Ohio (near the Champaign - Logan county border). They were married on Lafe's 28th birthday. Emma was ten years younger than Lafe. They had six children, two of which died in infancy
Lafe ran a blacksmith shop in the town of Crayon (Champaign County), Ohio, and farmed an 81-acre farm on shares after he was married. Later, he built a two-story building in Crayon, which had a general store with a post office on the bottom floor and an I.O.O.F. Hall upstairs. For a time he also had the region's telephone switchboard in a back room (his daughter Mary remembers working in the store and at the switchboard). Lafe worked as a part-time troubleshooter for the phone company after that.
Lafe and Ida lived in Champaign County until Ida's death in 1913. Lafe eventually moved to suburban Detroit to live with his daughter, Mary. He died there on January 11, 1934. Lafe and Ida are both buried at Spring Grove Cemetery in Millerstown, Ohio.
Lafe and Emma Stembel's six children:
1. Minnie May. Minnie was born on New Years Day, 1886. She died of scarlet fever on August 27, 1902. She was 16 years old.
2. Goldie Ethel. Goldie was born November 24, 1887. She almost died of scarlet fever during the epidemic that took Minnie's life. On November 29, 1905, she married Charles Hoffman. Goldie and Charles had five children, Franklin, Orrin Clair, Margaret, Shirley, and Marcella. Goldie died April 19, 1971.
3. (Son). Emma gave birth to a son on January 26, 1889, who died five days later.
4. Mary Margaret. Mary was born December 26, 1892. Mary, too, had scarlet fever like her sisters, but wasn't as sick. Growing up, she worked in her father's store, and later at the phone switchboard. On March 26, 1919, she married William Kenneth Davis. They moved to Ecorse, Michigan, outside of Detroit. Later, her father came to live with them until his death in 1934. Mary and William had no children.


William died March 16, 1949. After his death, Mary went to work for a coal dealer. She ran the office and handled sales. After the owner died, Mary ran the company for a few months until a buyer could be found. Then she quit working for good. I corresponded with Mary from 1986 to 1988; she provided information about her branch of the family. She died about November 18, 1989. Her ashes were placed next to her husband in the Michigan Memorial Cemetery.

5. Bertha. Bertha was born January 30, 1895, and died August 8 of the same year.
6. Cora Ann. Cora was born May 3, 1896. She grew up in Crayon. She married Walter R. Scott. They had no children. Cora died November 14, 1984.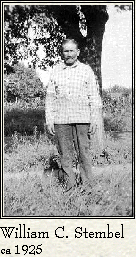 C. William C. William was born February 2, 1859 in West Liberty, Ohio. In 1880 he moved to Valley City, Missouri according to his granddaughter, Peggy Taylor Palmer. He was 21 years old and unmarried at the time of the move. In 1896, at the age of 37, he married Ida Caldwell, a 23-year-old native of Missouri. Over the next 10 years they had four children. In addition, two of his brother John's children came to live with them (see John Bradford above).
William died in 1938 at the age of 79; Ida died in 1960 at the age of 87.
William and Ida Stembel's children:
1. James C. James was born July 11, 1899, and died August 28, 1900.
2. Hazel. Hazel was born March 15, 1900 at Valley City, Missouri. On Christmas Day, 1927, she married Jesse Earl Taylor in Kansas City, Missouri. They lived in Kansas City all their life. They had one child, a daughter, Peggy.


Jesse died December 13, 1955, in Kansas City. Hazel's house was purchased by the state for the Crosstown Freeway, so she moved in with her sister, Gladys in 1971. Hazel died soon after, on April 6, 1972, in Warrensburg, Missouri. She is buried in Kansas City.

Hazel and Jesse Taylor's child:

a. Peggy June. Peggy was born in Kansas City, Missouri, on June 3, 1930. She married Charles Palmer August 24, 1952, in her parent's home in Kansas City. Peggy and Charles had one child, a son, Jesse Charles, but he died when he was six years old. Peggy and Charles live outside of Clinton, Missouri.



3. Gladys. Gladys was born November 26, 1903, at Valley City. On November 1, 1930, she married Lawrence Lee Harness in Sedalia, Missouri. They had no children. Lawrence died at Warrensburg, Missouri, on August 19, 1969. After her husband's death, Gladys lived alone until 1971 when her sister, Hazel moved in with her. Hazel died soon after. Gladys's had to move when her house was purchased by Central Missouri State University as part of their expansion program. She moved to a small house in town where she lived until shortly before her death September 25, 1983. She died in Shawnee Mission, Kansas.
4. Jesse Harlow. Jesse was born October 6, 1906, at Valley City. He married Juanita (surname unknown) around 1932. The marriage ended in divorce in 1940. Jesse married Ruth Hodges around 1942. This marriage also ended in divorce in 1949. Jesse married twice more, the last time to Edna Erhart Brenner, a widow with four children, two who were still in school. Jesse loved to spend time with his step-children. Edna died in 1975. Jesse died June 5, 1986, at Warrensburg. He had no children from his marriages.

D. Joseph Van Swearingen. Joseph was born on May 4, 1862. Joseph was a long-time family mystery. Mary Stembel Davis Joseph's niece) told me how one day he just moved away from his Ohio home and the last anyone heard from him was in 1896. I finally located him in the 1900 federal census. He was living in Thomas County, Kansas, with another family. He was single. He listed his occupation as farmer. Recently, I located him again when I found him listed in the 1920 census. He was working as a "Hired Man" in Wheatland (Yuba County), California, about 30 miles north of Sacramento. According to the census, he was 59 years old.
E. Eleanor Josephine. Ella, as she was known, was born January 9, 1869, in Ohio. Her family moved west when she was in her early teens, eventually settling in Valley City (Johnson County), Missouri. On September 14, 1890, she married Frank P. Lanham, in Johnson County. Sometime around 1903, they moved their five children to a farm near Tulsa, Oklahoma. Frank and Ella had four more children after the move for nine children in all (8 boys, 1 girl). All but one of their nine children remained in the Tulsa area and are buried in or near Tulsa.
Ella and Frank's only daughter, Sadie, married William Bratton in 1918. William was part Osage Indian and lived on the Osage Indian Reservation near Tulsa. After their marriage Sadie and William lived on the Osage reservation. Their seven children were 25% Native American and it appears they were raised as Osages. They owned a rather large homestead which they called Turkey Creek for the creek that ran through their property.
William's Native American heritage is thus: William's father, Isaac Tell Bratton, was a white man born in Ohio in 1862. He was living in Oklahoma in 1898 when he married a 16 year old Osage Indian, Josephine "Pah Skah" Long(8). William was their first born. For more about his family, click here..
Sadie Lanham's marriage to William Bratton, an Osage Indian, was fortuitous, for in 1907 all registered Osage Indians received an allocation of 657 acres in 1907 when Oklahoma became a state. They also received "headrights" to a share of all royalties paid to the tribe for oil pumped from reservation lands. Oil was discovered on the reservation in 1897. By the 1920s the market for oil had grown dramatically and by the mid-1920s the Osage Indians were recognized as some of the richest people in the state. This writer has not researched the impact this had on Sadie and William's family.
---
FOOTNOTES
---

1. Oliver and Margaret were married in February 17, 1850. This is the date entered in Oliver's family Bible. However, the 1850 census, taken four months later does not show them as husband and wife. Oliver was living with his parents and listed with the rest of John's children. A 'Margurite Stimble' (the same spelling as Oliver's family surname in this entry) was shown separately, listed after a hired hand and an eight year old child living with the family. Adding to the confusion, the Margurite Stimble in the census was 26 years old, while Oliver's wife, Margaret was only 20 according to Oliver's family bible. This is a very curious census entry.

Incidentally, Mary Stembel Davis believes Margaret was working as a maid or servant for the Stembels at the time Oliver married her.

2. One possible reason for John's sudden change in age is that Nellie's mother was only 47 years old--one year younger than John! According to the census, Nellie's mother had six children and all were still alive. However, in the column for "Years Married" it says three, so she may have been widowed and remarried. Both Nellie and her brother reported their father's birthplace as England.

3. Personal letter from Marcellus Lafayette's daughter, Mary Stembel Davis dated August 26, 1986.

4. Ibid.

5. Ibid.

6. Ibid. (Lafe's daughter, Mary, said her father told her this, and she believes it happened that way because she has never known him to exaggerate.)

7. According to Helen Hoover Santmyer, who wrote a best selling book about her hometown, Xenia, Ohio, this is how the Black section of Xenia got started. She writes, "The East End [the Black section of town] had begun soon after the first settlement of the frontier village [of Xenia]. Virginians, Carolinians, and Kentuckians who disliked slavery came into the Northwest Territory to escape it, and a few brought their slaves with them, set them free, and sometimes bought them farms." We can assume Marylanders, a slave state, also did the same. [Santmyer, H. H., "Ohio Town, A Portrait of Xenia." Harper & Row, 1984. p. 87.]

8. In 1907, at the time of Oklahoma Statehood, Josephine was one of 2,229 registered Osage tribe members.




Return to the top of this page

Copyright. Oren Stembel, STEMBEL FAMILY HISTORY PROJECT (familyhistory.stembel.org).