---
[Last updated: 24 August 2011]
---
Johan Friederich Stembel (Great-great-grandfather)
Frederick Stembel (Great-grandfather)
John Stembel (Grandfather)
Joseph V.S. Stembel (Father)
George Stembel
---
GEORGE OREN STEMBEL (1853 - 1914)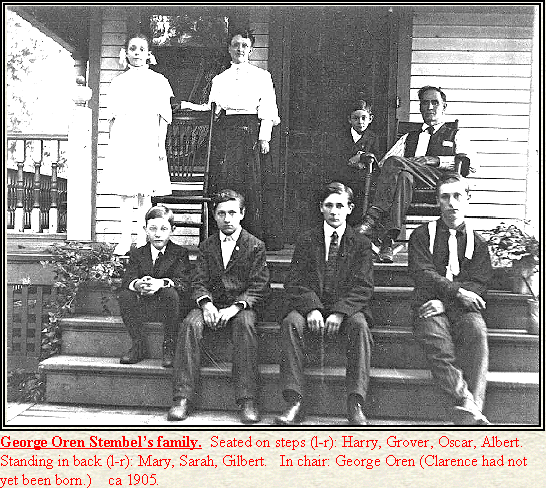 ---
George Oren Stembel was born October 30, 1853,(1) four miles southwest of West Liberty, Ohio. He was Joseph and Mary Stembel's second child and their oldest son.

I surmise school played a large part in George's life, for he was one of the few Stembels of that era to attend an institution of higher learning. At the age of 23, George enrolled in the National Normal School

(2) located in Lebanon, Ohio. Lebanon is a small town 50 miles northeast of Cincinnati. National Normal School was a teachers college, but other degrees were offered as well. At the time George attended, it was considered a large institution, with about 1,800 students.

To earn a diploma, students were required to attend at least four 10-week sessions and one 8-week session. Tuition, room, and board cost about $27 per session, and textbooks were rented for 10% of their retail cost. The entire cost of each session was payable in advance.(3)

George received his diploma in June of 1879. His degree was in business. On his diploma is a list of his classes and the grade he received.(4) George did well in all of his classes, but excelled in business courses. Curiously, at a time when railroads were exploding across the country, George elected to take a course in Steamboating instead of Railroading. Is it possible that George knew of, and was inspired by, the exploits of his distant cousin, Rear Admiral Roger Nelson Stembel, now retired?(5) Or possibly he was influenced by his school's proximity to Cincinnati and the Ohio River.

After graduation, George returned to Champaign County where he taught school. At the time of the 1880 census, he was still single and living at home with his parents and siblings.

Sometime after the census, George moved to Indiana. I have no idea what triggered this move. There were Stembels living in Benton County, but I have no record that he ever visited them. It's possible his mother had relatives in the area where he moved to.

Family lore says that George enrolled in the Northern Indiana Normal School and Business Institute in Valparaiso, Indiana. If this is true (and there is some doubt(6) it is still not clear whether he moved to Indiana to attend this school or whether he moved to Indiana first, and only later decided to enroll in the school.

We know that at some point he moved to Hebron (Porter County), Indiana, where he worked in a drugstore. In the fall of 1884, he moved to Wheatfield, Indiana, a small prairie town in Jasper County. It was so small, in fact, that the entire town consisted of just six houses.(7) He took a job as manager of the W.E. Sweeney Lumber Yard.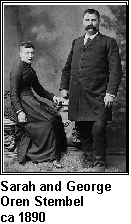 While living in Wheatfield, he met Sarah Elizabeth Tilton. Sarah was born in nearby Medaryville, Indiana,(8) on December 9, 1869. She moved to Wheatfield with her parents in 1885.(9) George noticed her soon after her arrival, and not long after they were engaged. They were married on October 2, 1888. Sarah was just 18. George was nearly 35.
In 1889, their first child, Albert Frederick was born. George and Sarah had six more children; the last was born in 1907. George was nearly 54 years old at the time of his birth.
In 1903 George formed a partnership with Edward Biggs selling lumber, grain, hay, and farm implements.(10) In August of 1904 he assumed full control of the business at the death of Mr. Biggs.(11) Under his control, the business prospered, as Wheatfield grew. Later he sold this business and erected a large grain elevator.
As owner of a large business in a small town like Wheatfield, it is inevitable that George would be active in his community. George was a member of the Wheatfield School Board for eighteen years,(12) a post he enjoyed. He was also active in politics. In 1898, he ran for the office of Jasper County Auditor.(13) However, running as a Democrat in a strongly Republican county probably doomed his chances. He lost.
George was also active in a number of social organizations, including the Masonic Lodge, the Knights of Pythias, and the Modern Woodmen of America.(14)
About this time George was diagnosed with diabetes. His obituary describes how he dropped from a robust 200 pounds to 150 pounds in the ten years before his death. This happened before insulin was available to control diabetes's devastation. Eventually the diabetes led to George's death on August 7, 1914,(15) at the age of 60. It was reported in a local newspaper that his funeral was the largest ever held in the area.(16)
George usually went by the name George Oren. Mary Stembel Davis remembers meeting him when she was a child. She described him as a jovial man who got along well with children. She told me her sister Goldie was so fond of him that she later named one of her children after him (but spelled Orrin).(17)
By all measures, George was a financial success. At his death he was the wealthiest man in Wheatfield, and one of the wealthiest in Jasper County. Unfortunately, George died without a will. It took almost sixty years to settle his estate. His sons took over the management of his businesses and his property was divided among family members.
Sarah remained in Wheatfield. Almost four years after George's death, the family's wooden house burned down June 23, 1918.(18) Sarah had a new house built upon the same site, this one made of brick. She lived there for the remainder of her life. Of her children, one son died in 1921, another in 1930. Two sons married and remained in Wheatfield, a third did not marry, but remained in Wheatfield. Another son moved to Chicago. Her only daughter married and later moved to Texas.
In 1949, Sarah was interviewed for an article in a nearby newspaper. She described the early days of Wheatfield, and how much had changed since then. The article noted that Sarah's surviving sons still lived close by; Harry was single and living with her, Albert was living next door, and Oscar was living across the street.(19)
Sarah died in 1958 at the age of 88. I'm told she had a quick temper, and had been hard of hearing for at least 30 years before her death. I remember meeting her just once, a few years before her death.
---
George and Sarah Stembel's children:
A. Albert Frederick (1889-1960). Albert was born on August 25, 1889, in Wheatfield. He was most likely named after his father's brother. Albert married Almedia Louella McCay in 1914, shortly after his father's death. Albert was 25. Almedia was 17. At George's death, Albert took over as manager of his father's businesses. A year later Albert was elected to the Wheatfield Town Board. At the same time he also held the office of City Treasurer.(20) Albert and Almedia had three children.
Sometime between 1929 and 1933 Albert and Almedia were divorced. Albert married Nancy Ellen Harrington on January 12, 1934. They had a child, Albert Allen.(21) Albert died of a heart attack(22) in 1960. Nancy died in 1985.
Albert's four children (with two wives):
1. Albert M. Albert was born September 5, 1916, probably in Wheatfield. He died the next day. He is buried in the Wheatfield Cemetery.
2. William Frederick. William was born January 13, 1918, in Wheatfield. On August 28, 1943, he married Margaret Alma Parker. They had one child, a son, whom they named William Frederick II. He went by the name of Fred. Fred married Linda Louise Knapp. They had two children, but later divorced. William died April 6, 1957, in Valparaiso, Indiana, and is buried in the Wheatfield Cemetery. Margaret died July 12, 1996. Fred died September 28, 1997.
3. James Lewis. Jim was born January 17, 1929, 11 years after his brother William. Jim married Joan Carroll Hartman on December 8, 1951, in Neptune, New Jersey. They had two children, James, Jr., and Jean. Jim died September 28, 1996. Joan lives in Spring Lake Heights, New Jersey.
4. Albert Allen. Allen, as he is known, was born April 24, 1936, in Wheatfield. He was born to his father's second wife, Nancy. He was seven years younger than his half brother, James, and 20 years younger than his half brother, William. Allen married Carolyn Ruth Hoffman on October 1, 1960. They had four children: Barbara, Carol, Martin, and Sharon. They lived in Hebron, Indiana. Allen died March 31, 2003.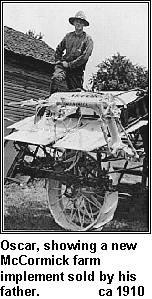 B. Oscar J (1891-1953). Oscar was born on January 15, 1891, in Wheatfield. In 1920, Oscar married Clara Bell Dunn. At the time of the wedding, Oscar was 29, Clara was 19. Oscar and Clara had two children, both daughters. Oscar died in 1953.
Oscar and Clara Stembel's children:
1. Miriam Hope. Miriam was born January 12, 1922, in Wheatfield. On September 15, 1940, she married Charles Lawyer in Bloomington, Indiana. They have four children: Charles, Penelope, Samantha, and Andrew. Charles died on June 3, 1970, in East Chicago, Indiana. Miriam still lives in Wheatfield. She has shared many clippings and photographs of the family with me.
2. Donille. "Doni," as she is known, was born on Christmas Day, 1927, in Hammond, Indiana. On June 5, 1953, she married Benjamin Hoevel in Pierceton, Indiana. They have four children: Ann, Claire, Kimberly, and Amy. Donille and Benjamin live in South Bend, Indiana. Doni has also generously shared Stembel information...and works of art.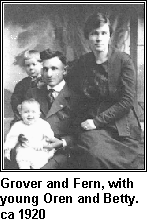 C. Grover Cleveland (1892-1921). Grover was born on November 6, 1892, at Wheatfield. He was the third child born to Sarah and George in just over three years. Grover married Lulu Fern Dewey in 1916. Grover was 23; Fern, as she was known, was 19. They had two children, Oren (the father of this writer) and Elizabeth.
Grover was a foreman at the family's grain elevator. He also enjoyed gardening; he had a reputation for growing prize vegetables.
When Oren was four years old, he remembers his father coming home for lunch one winter day and complaining of a bad sore throat. During the meal it got so bad that he couldn't return to work. Oren remembers his father went to bed that afternoon and never got up again. Grover was taken to a hospital in Valparaiso where he died of lethargic encephalitis. He was just 28. His wife was left with two small children and no income. She stayed on in Wheatfield, where she opened a hat shop with a friend, and took in boarders. This income was not enough to support her family, so she moved to South Bend, Indiana, to look for work. Her two children went to live on her parent's farm, not far from Wheatfield. Eventually Fern found work in nearby Elkhart and was able to send for her children. From the time of Grover's death, Grover's brother, Harry, made it a point to watch over Fern and her family.
In 1933, Fern married Earl Shigley, but the marriage was short-lived. In 1945 she married again, to Fred Berkey. Fred worked on the railroad as a maintenance man. After Fred retired, they moved to Pensacola, Florida, where Fred died in 1967. Fern died in 1974.
Grover and Fern Stembel's children:
1. Oren Edward. Oren was born January 5, 1917, in Wheatfield. He was called "Spud" as a child and the name stuck into his adult life. He married Sue Hutchison on April 11, 1942, in Elkhart, Indiana. Soon after their marriage, Oren entered the Army Air Corps and was trained as a flight mechanic on B-29s. He was stationed in the Pacific Theater until the war was over. He returned to Elkhart where he and Sue had five children: Oren, Jr. (this writer), Robert, Deanna, Michael, and James.


Oren was a salesman for Kreamo, a local bread company based in South Bend, Indiana. Later he started his own insurance agency, and worked out of a shoe store he purchased. After all her children were in school, Sue sought a job as a paraprofessional teacher at the age of 51. She worked 25 years before retiring at the age of 76.

Oren died of a heart attack on October 1, 1989, in Bremen, Indiana, while visiting his son Michael. He is buried in the Sugar Grove Church Cemetery, east of Elkhart. Sue moved to a new house on Michael's farm. She lived there until her death on June 18, 2001. She is buried next to her husband.

Oren and Sue Stembel's children:

a. Oren Edward, Jr. Oren was born on May 4, 1945, in Elkhorn, Wisconsin. He was nicknamed Skip soon after birth and still goes by that name. Skip enlisted in the U.S. Air Force in 1965 and spent most of his four years stationed in Germany. After his discharge he attended Indiana University. In 1970 he married Margery Fossum. They moved to Washington, D.C. in 1974 where Skip went to work for the National Oceanic and Atmospheric Administration (NOAA) as a nautical cartographer. Skip and Margery had two children and a foster child. In 1990 Skip and Margery divorced. In 1997 Skip married Angela Wills. They live in Silver Spring, Maryland.
Skip and Margery's children:

1. Kelsi Noël. Kelsi was born December 30, 1977, in Takoma Park, Maryland. She earned a degree in Anthropology at Florida Atlantic University and a Masters Degree at the University of Tennessee. She has two children, Eirian Gail (Wells) and Abigail Layne. She lives with her husband, Charles Nibbana, in Columbia, Maryland. Kelsi is a teacher.
2. Jeffrey Wade. Jeffrey was born August 9, 1979, in Takoma Park. He currently lives in Silver Spring, Maryland, and works as a computer systems technician.
(3.) Sophia Aimée [Phoubandith]. Sophia was born December 24, 1969, in Laos (Southeast Asia). Her family fled Laos as the communists took over their region. Her family spent 3 years in a Thai refugee camp and then came to the United States. Sophia is one of ten children. Soon after her family arrived in the Washington, D.C. area, She was enrolled in the school where Margery taught. She was 11 years old and spoke no English. After the school year, to relieve overcrowding in her home, Margery invited Sophia to move in with their family and become their daughter. After high school Sophia begn working on a degree in nursing. She married Jack Faulkner. They had four children, Audrey, Sydney, Perry, Bradley. Eventually the marriage failed and Sophie married Andy Boltz on September 23, 2009. They have had two more sons, Jettrin and Winter. Sophia and Andy live in Frederick, Maryland.


b. Robert Dewey. Robert was born October 29, 1946, in South Bend, Indiana. Bob enlisted in the Army in 1966 and was stationed in Germany not far from his brother, Skip. After his discharge he returned to Indiana. In 1973 he married Jeanne Chernik. Jeanne had two sons by a previous marriage, Randall and Sean. Bob built custom homes and later was a foreman for a firm that built commercial buildings. He and Jeanne lived in Granger, Indiana. Bob died suddenly November 2, 2009.
c. Deanna Lynn. Deanna was born July 8, 1951, in Elkhart, Indiana. As a child Deanna studied voice and is an accomplished soloist. In 1980 she married Talmadge (Tal) Mullen. They have a daughter, Kathryn Colleen. Deanna is an office manager. She and Tal live in Elkhart, Indiana.
d. Michael Lon. Michael was born April 3, 1954, in Elkhart, Indiana. In 1974 he married Elizabeth (Beth) Brown. Soon after their marriage they purchased a farm near Bremen, Indiana, from Beth's grandfather. Mike and Beth have three children, Lisa, Christina, and James. They live west of Wakarusa, Indiana, where Mike is a department head at a vehicle construction plant.
e. James Ivan. James was born November 17, 1956, in Elkhart, Indiana. After high school, Jim earned a degree in electronics. In 1979 he married Christine Eger. Jim and Christine have three children, Kari, Jonathan, and Stephanie. Jim owns an audio systems business. Jim and his family live near Middlebury, Indiana.


2. Elizabeth Odell. Elizabeth, "Betty," as she is known, was born on February 5, 1919, in Wheatfield, Indiana. She married Howard Weideman in Elkhart, Indiana, on June 2, 1940. Howard is an accountant; Betty worked for the Department of Commerce (Census), and is an accomplished musician. They have four children: Barbara, Beth, Thomas, and Nancy (Beth died in a tragic auto accident in 1974). Betty and Howard live in Elkhart. They have sponsored a number of Stembel family reunions. On June 2, 2010, they celebrated their 70th wedding anniversary.

D. Mary Samantha (1895-1981). Mary was born March 18, 1895, in Wheatfield. She was George and Sarah's only daughter. On March 4, 1918, Mary married Abe Morehouse in Rensselaer, Indiana. Abe was from the town of Kouts, just a few miles from Wheatfield. After their marriage they moved to a farm not far from Kouts where they had two daughters. Sometime later they moved to Corpus Christi, Texas, hoping the climate would be more beneficial to Abe's health.
Abe died in 1953 just two weeks before his 57th birthday. Mary remained in Corpus Christi for the remainder of her life.
On June 1, 1980, the city of Corpus Christi honored Mary's service to the community by proclaiming "Mary Morehouse Day." Mary was 85 years old. She died a year and a day later.
Mary and Abe Morehouse's children:
1. Lois Mae. Lois was born September 13, 1918, in Kouts, Indiana. On August 3, 1946, she married Harold Sidler in the Bronx, New York City. They had two children, Robert and Peggy. Sometime before 1951 Lois and Harold moved to Corpus Christi. Robert became a chemist. He is married and has three children. I have no information about Peggy.
2. Vera Louise. Vera was also born in Kouts, Indiana, on June 23, 1920. She married Grant Anderson on September 11, 1944, in South Mills, North Carolina. They had two children, George, who was born in Utah, and Christopher, who was born in Texas. Sometime after 1950 Vera and Grant moved to the San Diego area. Later they divorced. George is married and has two children. Christopher is also married and has three children.

E. Harry I. (1897-1961). Harry was born in Wheatfield, Indiana, on May 27, 1897. When he was 20, he joined the Army and served in World War I.(23) After his return, he took on some of the responsibilities of the family's businesses. Harry never married. He lived at home and took care of his mother. He ran the grain elevator with his brother, Albert. He was also a member of Masonic Lodge and the American Legion.(24)

After his brother, Grover, died in 1921, Harry watched over Grover's widow and her two young children, one of whom was my father.(25) I remember his visits to my home in Elkhart when I was a child. He was a kind, friendly man who laughed easily and enjoyed children. His kindness was appreciated.

Harry died of a cerebral hemorrhage(26) on February 12, 1961. He is buried in the Wheatfield Cemetery.

F. Gilbert Henry (1900-1986). Gilbert was born August 7, 1900, in Wheatfield, Indiana. In 1917 he married Mildred Anna Morrow in South Bend, Indiana. They had a daughter. Evidently the marriage didn't last for he later moved to Chicago where in 1928 he married Erma Schram in Evanston, Illinois. They had one son, Gilbert Oren.

Gilbert owned a coal company and an insurance agency in Chicago. Erma died in 1965. In 1969 Gilbert married Ethel Volk. Gilbert died in 1986.

Gilbert's two children (with two wives):
1. Mary Elizabeth. Mary was born December 13, 1917(27), in South Bend, Indiana. She lived in South Bend as a teenager(28). She later married Dale Norris who worked for the Indiana & Michigan Electric Company. They last appeared in the South Bend city directory in 1960, at 1434 Miner Street.
2. Gilbert Oren. Gilbert was born on August 28, 1934, in Evanston, Illinois. He has a son, Steve(29), and daughter, Merrilee. Gilbert died August 29, 1998, a day after his 64th birthday.

G. Clarence Oren (1907-1930). Clarence was born September 1, 1907, in Wheatfield, Indiana. He was born seven years after Gilbert. Clarence never married. He died suddenly on July 18, 1930, of an infection which developed after an appendectomy operation in La Porte, Indiana. He was just 22. He is buried in the Wheatfield cemetery.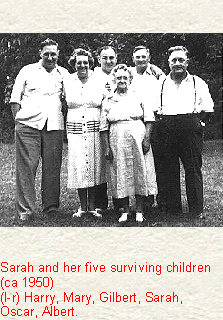 ---
FOOTNOTES
---
1. George's tombstone shows his date of birth as October 20, 1854. I believe this is incorrect. If George was born on this date, his younger brother John, born July 23, 1855, would have been born just 9 months and three days after George (highly unlikely!). Also, the 1860 federal census (taken July 1, 1860) shows George's age as 6 years old, not 5 as it would be had he been born on the date shown on the tombstone.
2. The National Normal School (later the National Normal University) merged with Wilmington College in Wilmington, Ohio, in 1917 and is still in existence as Wilmington College.
3. This information comes from an information booklet published by the school around the time George was a student. A photocopy was sent to me by the archivist of Wilmington College, Ina E. Kelly, in 1984.
4. George's diploma was donated to me by Miriam Stembel Lawyer.
5. I'm curious how closely the various branches of the Stembel family kept in touch with each other. At this point it had been 60 years since the Stembels began migrating from Maryland. According to Mary Stembel Davis, who was a child when George Oren was an adult, her parent's generation kept in pretty good touch with some branches of the family, but contact dwindled during her generation.
6. In one of George's obituaries, it stated that George had attended Valparaiso University. Valparaiso University was known as the Northern Indiana Normal School and Business Institute at the time George would have attended. According to Mr. Daniel Gahl, Archivist for the University (1984), the only records still available for the period that George attended are in the form of lists of student's names published in quarterly and annual school catalogs. He did not find George's name in any of those lists. It's possible that George later took a class or seminar at Valparaiso University in conjunction with his business or community activities.
7. Newspaper clipping from the "Rensselaer Republican", Rensselaer, Indiana. March, 1949 (exact day unknown). This was a newspaper column devoted to Sarah Stembel, describing her life in Wheatfield. Sarah was about 80 years old at the time. The original is in the possession of Miriam Stembel Lawyer.
8. There is some confusion over Sarah's place of birth. Her marriage application just has "Indiana" as her place of birth. Her son Grover's marriage application shows her birthplace as Pulaski County, Ohio. Her Daughter, Mary, entered her mother's birthplace as Porter County, Indiana and her sons Albert and Oscar both entered Medaryville, Indiana. In sorting this out we can eliminate Pulaski County, Ohio, because it doesn't exist. There is a Pulaski County in Indiana, however, which is the county where Medaryville is located. Also, Sarah's brother, John, was born in Medaryville (according to his obituary). I'm reasonably certain Medaryville is where she was born.
9. Newspaper clipping, "Rensselaer Republican", March, 1949.
10.Newspaper clipping of George Oren Stembel's obituary. Newspaper and date unknown, but presumably it was a Rensselaer, Indiana, newspaper printed soon after his death (Rensselaer is the county seat of Jasper County). Original is in the possession of Miriam Stembel Lawyer.
11. Newspaper clipping, "Rensselaer Republican", March, 1949.
12. A Standard History of Jasper and Newton Counties, Indiana. Hamilton, Louis H., and Darroch, William, eds. The Lewis Publishing Company, Chicago and New York, 1916. pp.543-4.
13. Newspaper clipping of George's obituary, second of two obituaries in unknown but different newspapers. Like the first, this is probably from a Rensselaer, Indiana, newspaper. Rensselaer, like many Midwest towns its size, may have had two newspapers, the Republican (which I know existed in 1949) and the Democrat. This clipping is headed "GEORGE O. STEMBEL IS DEAD", with "$1.50 Per Year" above that. The original is in the possession of the author.
14. Newspaper clipping of George's obituary, "Passing of George O. Stembel". I have not yet researched the purpose of the latter two organizations, but they were very popular in the Midwest at the time of George's death.
15. George's death certificate lists the date of death as September 8, 1914. I believe this is incorrect for the following reasons:
a.) A newspaper obituary in my possession reports his date of death as August 7, 1914. Even though it is undated the obituary was obviously published soon after his death (certainly within a week of his death). It seems hard to believe they could be a full month off in the date of his death, b) A resolution of condolence placed in a local paper (a copy is in my possession) by the Knights of Pythias, Lodge No. 353 also shows his date of death as August 7, 1914, c) A second newspaper obituary states that George died at his home Friday after noon at 4:30. My research finds that August 7, 1914, did in fact fall on a Friday while September 8, 1914, was a Tuesday, d) George's tombstone also shows his date of death as August 7. Even though the date of birth is incorrect on the tombstone, it seems less likely that they would error on the date of death because the tombstone was probably engraved soon after his death and a mistake like that would not go unnoticed.
16. Newspaper clipping, "Passing of George O. Stembel".
17. Letter from Mary Davis Stembel to author dated August 26, 1986.
18. Newspaper clipping from unknown newspaper (probably the South Bend Tribune), exact date unknown. The original in the possession of Miriam Stembel Lawyer.
19. Newspaper clipping, "Rensselaer Republican", March, 1949.
20. Hamilton, p.544.
21. Evidently Nancy had children from a previous marriage, for two daughters (Mrs. Joyce Minor of Rensselaer and Mrs. Patricia Whiteaker of Wheatfield) that were not Albert's children are mentioned in his obituary.
22. Newspaper clipping of Allen's obituary. Newspaper unknown. Date unknown. Obituary titled, "Albert F. Stembel." The original is in the author's possession.
23. Newspaper article reporting Harry's death. Newspaper unknown (probably a Rensselaer, Indiana, newspaper). Date unknown. Article is titled: "Harry I. Stembel Is Found Lifeless In Wheatfield Home". The original is in the possession of Miriam Stembel Lawyer
24. ibid.
25. A somewhat humorous story was told to me by an older family member. When Harry's older brother, Grover, died, he left a wife and two young children. With no income, they faced hard times. However, a few years before he married, Grover had purchased a life insurance policy in the amount of $2,500. His mother was named the beneficiary. Unfortunately, Grover neglected to change the beneficiary after his marriage, so the insurance check was paid to Grover's mother. It should be noted that Grover's mother did not like the woman whom her son had married, so she determined she was going to keep the money for herself. This so incensed Harry that when the opportunity arose, he barricaded his mother in the bathroom for hours until she finally agreed to turn the money over to Grover's widow.
26. Newspaper article reporting Harry's death.
27. "The Peffley Families in America," by May Miller Frost. 1938. Page 161. I have not located this book, but was told of it by Jeff Scism who has researched the Morrow family. This was found on the Internet.
28. My father occasionally saw her on his bread sales route in South Bend. I believe she attended South Bend Riley High School.
29. Steve called me in 1986, but it was quite by accident. He was working as a telemarketer for Apple Computer. He was working from a list and was amused to find he was talking to another Stembel.
Go back to the top of this page