---
[Last updated: 20 March 2011]
---
Johan Friederich Stembel (Great-great-grandfather)
Frederick Stembel (Great-grandfather)
John Stembel (Grandfather)
Joseph V.S. Stembel (Father)
Addie Stembel
---
ADDIE ELIZABETH STEMBEL Brubaker (1871-1954)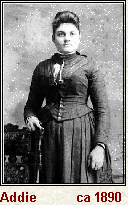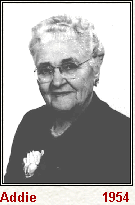 Addie was born June 10, 1871. She was Joseph and Mary's youngest child. Joseph was almost 43 years old when she was born. She was 19 years younger than her oldest sister, Mallisa. According to family historian, Dr. McLean, Addie journeyed to Missouri with her mother in the 1880s to visit her father's brother, Oliver, and his family.(1) It is not clear why Joseph did not join them. It's possible that since Mary lived near the Stembels as a child, she may have been a close friend of Oliver or his wife, Margaret. In any case, it must have been quite a rugged adventure for Addie who was barely in her teens at the time.
Addie married Samuel Brubaker in 1892. Addie was 21; Samuel was 27. They had three children, all daughters. Samuel and Addie owned a farm near Milford Center, just east of the Champaign County line. However, sometime in the middle 1930s, after over 40 years of marriage, Addie and Samuel separated.
It seems that Addie was the glue that kept the Stembel families in Ohio together. Her family reunions are legendary, even today. Everyone I have talked to who knew her, speaks of her fondly. Addie died June 19, 1954. She was 83. She is buried in the Oak Dale Cemetery, in Urbana, Ohio.
---
Addie and Samuel Brubaker's children:
A. Lucille (1893-1945). Lucille was born on November 7, 1893, in St. Paris (Champaign County), Ohio. As an adult she was a school teacher, but she retired from teaching in the mid-1930s and became a farmer for the last ten years of her life. She died at the age of 52 in Milford Center (Union County), Ohio. She never married. She is buried in the Oak Dale Cemetery in Urbana, Ohio.
B. Elizabeth Marie (1895-1984). Elizabeth was also born in St. Paris, on November 19, 1895. She married Robert Jarvis Totten. Robert was born in Pennsylvania and was significantly older than Elizabeth. He may have been married previously. Elizabeth was a school teacher. No children were born of this marriage. Robert died in 1937 at the age of 69. Elizabeth lived until 1984. She died in New Wilmington (Lawrence County), Pennsylvania, but is buried in Youngstown, Ohio.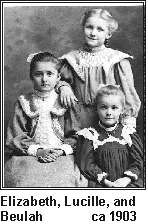 C. Beulah Blanche (1898-1981). Beulah was born April 21, 1898, in St. Paris, Ohio, like her sisters. On June 12, 1929, she married David Webster, a direct descendant of Daniel Webster. They were married in Urbana, Ohio. Beulah and David had three children.
David attended the University of Wisconsin, where he earned a Ph.D. Later, he took a position at Temple University, in Philadelphia, where he taught English Literature. After eight years of teaching, he became acting Dean of Men, and later became an Associate Dean for the College of Liberal Arts at Temple.
Beulah died in 1981, in Medford, New Jersey. She is buried in Oak Dale Cemetery, Urbana, Ohio, not far from her birthplace. David moved in with his son, Guy, in New Jersey. He died May 29, 1988, at the age of 83.
Beulah and David Brubaker's children:
1. David Brubaker (1931- ). David was born January 13, 1931, in Madison, Wisconsin. He married Phyllis Grey. They have four sons: David, Charles, Steven, and Peter. David taught Mathematics at George Washington University. He lives outside Washington, D.C. in Potomac, Maryland.
2. Julie Fry (1933- ). Julie was born on May 23, 1933, in Madison, Wisconsin. On May 14, 1960, she married Harry Reiff in Moorestown, New Jersey. Julie is a children's librarian; Harry is a librarian and administrator. They have three children: Johanna, Victoria, and Philip. She and Harry lived in Philadelphia most of their adult life, but retired to New England.
3. Guy Hutton (1937- ). Guy was born on August 23, 1937, in Madison, Wisconsin. He married Susan Westfall in 1967, but she died not long after the marriage. Guy later married Karen Ritsema on March 6, 1982. They have one child, Andrew. Guy is an architect and lives on a 144-acre farm in Medford, New Jersey, as of this writing.

---
FOOTNOTES
---

1. Letter from Dr. W. McLean dated September 14, 1984.


Return to the top of this page

Copyright. Oren Stembel, STEMBEL FAMILY HISTORY PROJECT. (familyhistory.stembel.org)